Pro Runners Keep Tradition and Participate in Virtual Fleet Feet Liberty Mile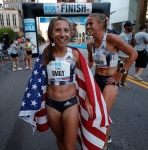 August 04, 2020
Featuring a Rio Olympian, four USA Road Mile champions and four race champions, the virtual elite field hopes to inspire and motivate other race participants with their virtual Mile races
From P3R
PITTSBURGH – Even though the make-up of the race is different this year, the 2020 Fleet Feet Liberty Mile will still challenge participants to run their fastest (and most fun) Mile virtually. America's best Milers will also be joining in this year's virtual pro field, which challenges them to run their fastest Mile remotely while also motivating other participants.

At past editions in downtown Pittsburgh, participants loved the excitement of racing down Liberty Avenue and then watching the country's top athletes, including Olympians and national champions, race to the finish in sub-4 or sub-4:30 times. Although the virtual elite field will be running their Mile races without fans, spectators and competitors this year, they hope to still inspire other runners to run their best Mile by sharing their training and racing experience on social media.

This year's virtual pro field includes U.S. 2016 Olympian Ben Blankenship and fellow USA Road Mile champions Heather Kampf, Emily Lipari & Riley Masters. With a tradition of running the event, they didn't want to miss it even though it was virtual this year.

"I have always loved traveling to the hidden gem of Pittsburgh, and I'll miss going back this year," Lipari said. "The Fleet Feet Liberty Mile has always been a special one to me because regardless of how my season was going, I was always able to find a little magic on the streets of Pittsburgh."

The professional runners, just like most runners right now, are learning to adapt with COVID-19 and the cancellation of their favorite races this summer. Many are keeping their running schedule even though they may no longer have a race as a goal. Some are also trying new workouts and finding ways to keep running fun.

"I figured there were a few ways to respond to the tough new reality," said Kyle Merber, 2017 race runner-up "My choice was to look at it as an opportunity to try new things and experiment with higher mileage training. I have never been so tired in my life, but overall, I would rate it a success."

Both the men's & women's virtual elite field participated in video round table discussions to share training tips and discuss how they are staying motivated this summer.

More than 1,000 runners of all ages and abilities are expected to participate in this virtual Fleet Feet Liberty Mile, a Bring Back the Mile Featured Event. All participants have until Friday, August 7, 2020 to complete their virtual race. Participants are encouraged to use #libertymile and tag @RUNwithP3R and @fleetfeetpitt on social media so others can follow along and celebrate their virtual races. Also new for 2020 is the first-ever Fleet Feet Liberty Mile medal.
For more information or to register, go to: LibertyMile.org
2020 Virtual Fleet Feet Liberty Mile Pro Field