Pro Q & A: Heather Kampf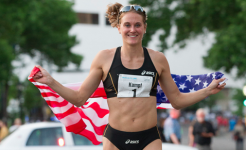 April 27, 2015
Medtronic TC 1 Mile headliner talks race goals, motivation and training; annual race set for Thursday, May 14.
From Twin Cities In Motion
Heather Kampf, the 2012 Medtronic TC 1 Mile women's champion who returns to the event this year, answered some questions recently for TCM Blog readers. The Rosemount High School and University of Minnesota alumnus who is part of Team USA Minnesota, talks about her goals, her favorite Mile preparation workouts, and her surprising favorite place to train!
What's your goal for the Medtronic TC 1 Mile?
I always like to have a range of goals, starting at the 'attainable', and reaching to the 'best possible outcome'- I think it's good to prepare yourself with what you'd feel content with at the end of the day, and then what you really would love to have happen. My range covers everything from a podium (top 3) finish all the way to winning/setting the new event record. The outcome to these goals are also dependent on outside factors that I can't control, but ultimately my vision is to confidently go into this race and do my best to represent MN well!!
Continue reading at: www.tcmevents.org