Platinum Performance State Street Mile Announces Prize Purse Increase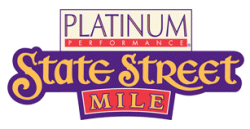 May 02, 2014
$4000 guaranteed prize purse; HOKA ONE ONE latest sponsor to join one of the most scenic and fastest Miles in the USA; home of the unofficial dog Mile world championships
SANTA BARBARA, Calif. - The 15th Platinum Performance State Street Mile on Sunday, June 1 welcomes families from around the country down its beautiful downhill course in the heart of historic Santa Barbara. For the top racers, the HOKA ONE ONE Open and Masters Elite Miles has a $4000 guaranteed prize purse, with $750 going to the top male and female finisher. An additional $500 will be awarded for Men's and Women's Open course records, 3:49 (Michael Coe, 2013) and 4:33 (Melissa McBain, 2005 and Tara Erdmann, 2012) making the State Street Mile one of the more lucrative road Miles on the west coast.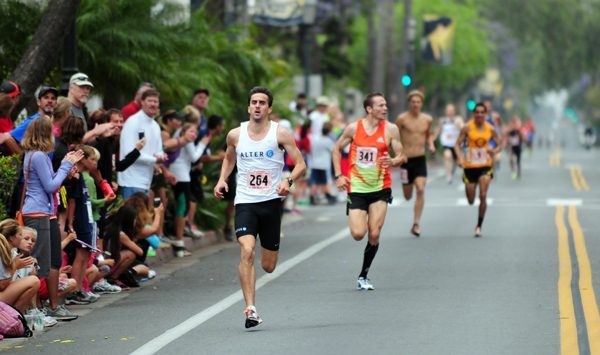 "We're thrilled to welcome an exciting new shoe brand, HOKA ONE ONE, to our event family," commented race director Megan Rheinschild. "Over the last fifteen years our sponsors have allowed us to grow the event to become a must-do-event for families and elite racers alike."
Last year, the Platinum Performance State Street Mile saw some of its most exciting racing in its fifteen year history. Lompoc, CA native, Michael Coe (pictured above), led the Men's race with a blistering new course record of 3 minutes, 49 seconds, while Katja Goldring of Los Angeles, CA just missed the Women's Open record by one second, crossing the line in 4:34. In the Masters division (40 and older), local Cindy Abrami, 44, lowered her Women's Masters record to 4:57, while Ray Knerr, 53, of Ventura won the Men's race, clocking 4:30.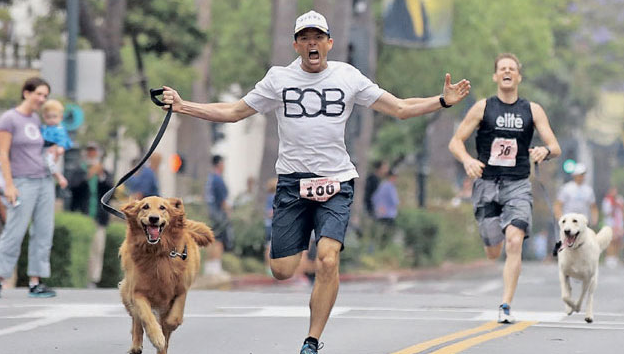 The home of the unofficial dog Mile world championships is also a morning highlight as some of the fastest pups on four legs stride down State Street. Local athlete Steve Harding and Bob (pictured right), took home the 2013 title in 4:26, just off the 2008 event record of 4:22 set by San Luis Obispo's Matt Johnsrud and Charlie. The not-to-be-missed, tail wagging fun Platinum Performance Dog Mile includes Top Dog title award bowls.
On June 1, the day kicks off at 8:00am with seven age group categories (14 and under, 15-19, 20-29, 30-39, 40-49, 50-59, 60-plus) followed by the YMCA Family Mile, the HOKA ONE ONE Elite Miles and capped off with the Dog Mile.
Awards will be given in every category including $4000 in overall prize money (Open and Masters 40-plus age-graded) with $500 for Open course records (3:49 – men and 4:33 - women). The event is also part of the local SBAA Grand Prix Series.
On Sa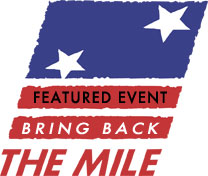 turday, May 31, there will be event registration and bib number pick-up available at Santa Barbara Running Company from 11:00am to 4:00pm (downtown, 110 Anacapa Street). Also at 7:00am race day, bib number pick-up and registration starts at Pedregosa and State Street in Santa Barbara. All proceeds go directly to the District Attorney's Victim-Witness Assistance Program's Crime Victim Emergency Fund.
The Platinum Performance State Street Mile is also a Bring Back the Mile Featured Event, showcasing the best Miles across the country and throughout the year.
To register or for more information, go to: www.sbmile.com
2014 Platinum Performance State Street Mile Prize Purse
MEN
1) $750
2) $500
3) $250
4) $150
$500 course bonus (3:49, Michael Coe, 2013)
WOMEN
1) $750
2) $500
3) $250
4) $150
$500 course bonus (4:33, Melissa McBain, 2005 and Tara Erdmann, 2012)
MASTERS MEN
1) $175
2) $100
3) $75
MASTERS WOMEN
1) $175
2) $100
3) $75