Peter Snell: Run of a lifetime 50 years on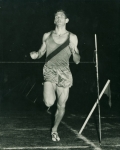 January 22, 2012
"The crowd started singing 'For he's a jolly good fellow' and the place was in chaos, with people running all over the show."
By Grant Chapman, New Zealand Herald
For Sir Murray Halberg, it was a night tinged with death and sadness. For Peter Snell, it was the moment he realized he wasn't just an 800 meter runner.
For athletics official (and an athlete himself) Toby Bowyer, it was a time when the police detective didn't mind suffering 'grievous bodily harm' at the hands of jubilant coach Arthur Lydiard.
For Nick Willis, Wanganui's Cooks Gardens has a special significance too - which is why he is the star turn at Friday's track meeting there to celebrate Snell's outdoor Mile world record set on January 27, 1962.
That night, a menacing black cloud hung over Wanganui. Outside the town, rain pelted down and threatened to put a dampener on the Agfa International Athletic Meeting. But at Cooks Gardens, apart from that cloud, the evening was still and perfect.
"It was almost an eerie thing," recalls Sir Murray Halberg, who was trying to warm up for the program's feature race under the weight of some tragic news.
The reigning Olympic 5000m champion had promised to help his mate Snell become the first man to break 4 minutes for the Mile on New Zealand soil.
The pair, both coached by the legendary Lydiard, had already contributed a unique piece of Kiwi sporting history, winning gold medals within an hour of each other at the 1960 Rome Olympics.
Halberg set the national Mile record at 3 minutes, 57.5 seconds, achieved in the same race that Australian legend Herb Elliott had set the existing world mark in Dublin four years earlier. Now he was expected to help break his own record.
Continue reading at: nzherald.co.nz
Mile world record progressions HERE.