On This Date in History: The Four-Minute Mile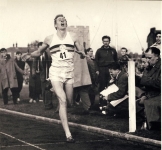 May 06, 2013
By Daily Press
On May 6, 1954, Roger Bannister became the first person to run a Mile in under four minutes.
For several years, men had been getting closer and closer to that barrier. It is not true, as some claim today, that experts in the 1950s believed it was impossible - but the idea of the four-minute Mile had certainly taken on a certain mystique. The world record had been lowered to 4:01.4 in 1945 and then stayed there for nine years.
After Bannister - a British medical student - finished a disappointing fourth in the 1500 meters at the 1952 Olympics, he focused on the goal of being the first runner to break the four-minute Mile. In early 1954 several runners were closing in on that landmark, getting the world record down to 4:02.
Continue reading at: dailypress.com