Olympian Then & Now: Gabe Jennings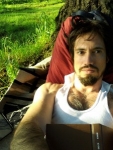 June 20, 2012
By Matt McCue, Runner's World
In 2000, Gabe Jennings, then a junior at Stanford, won the 1500 meters at the U.S. Olympic Trials in 3:35.90 to qualify for the Olympic team. At the Olympics, he placed 9th in his semi-final. He was never able to make another Olympic team owing to lingering injuries and a nomadic lifestyle that took him to Africa to train as well as on a bike trip from California to Brazil. In 2009, Jennings semi-retired from professional running and entered law school at the University of Oregon, from which he graduated in May.

This is the last of our interviews with U.S. Olympians before the Olympic Track & Field Trials.
With the Prefontaine Classic and Olympic Trials in Eugene, is there a track & field buzz is the air this month?
Gabe Jennings: Spring is always a special time for me because of that. I've always looked forward to spring track meets ever since I was 5-years-old. Spiritually, I generate some crazy momentum in the spring. My whole life just explodes—spring rejuvenates me. I follow track. I follow Stanford, but because I am here in Eugene I follow the Ducks. Every time I walk to class I walk past Hayward Field and every time I go for a run I run into Oregon Track Club people and other runners. Springtime here is track time, for sure.
Continue reading at runnersworld.com