Olympian runner Don Gehrmann looks back at his accomplishments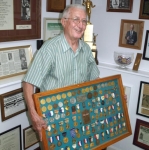 July 24, 2012
By Gary D'Amato, Journal Sentinel
PARDEEVILLE, Wis. - He retired from running nearly 60 years ago, so Don Gehrmann's accomplishments are mostly forgotten now, preserved only in yellowed newspaper clippings and brittle documents and in his own mind, where with minimal prodding he recounts races and rivals in vivid detail.
"Great memories," he says. "That's what they are. Great memories."
A house fire years ago claimed most of the trophies and medals Gehrmann won during his illustrious career, but what he managed to save takes up a good portion of the walls in his basement.
Now 84 but still spry and energetic, he proudly shows a visitor the framed photos and mementos and the stories come spilling out.
Continue reading at: jsonline.com