Oceanside Turkey Trot adds senior Mile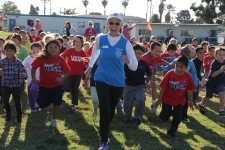 November 05, 2016
Senior running superstar Anne Garrett spokeswoman for one-of-a-kind Tri-City Medical Center Festival of Senior Miles on Wednesday, November 23
By Promise Yee, The Coast News
OCEANSIDE — The 11th Oceanside Turkey Trot has added two age 60-plus events this year, the senior Mile walk / run and 400 meter walkers with walkers challenge. Both events will be held the day before the Thanksgiving Day 10K, 5K and kids Mile, to allow families to cheer on their seniors.
Kathy Kinane, race founder and director, began the Turkey Trot more than a decade ago to share her love for running and spark a tradition of spending Thanksgiving morning together walking and running.
The race has always included elite runners and novices, and the mutual inspiration they provide each other. Elite runners take off in the first heats of races, and the kids Mile is led by high school runners in their track uniforms.
Kinane said she added the Tri-City Medical Center Festival of Senior Miles to extend inclusion. The day before the Trot will be all about seniors. Participants will receive a T-shirt and medal, and there will be big band music and dance demonstrations.
"For the past 10 years it has not been uncommon to have octogenarians on the course with their families," Kinane said. "I thought it would be fair to have a shorter distance for them to choose from. Their families can be there to cheer them on. Super fit seniors can relive their glory days and run the Mile."
Continue reading at: www.thecoastnews.com