New Master Lagat Still Wants to Be World Class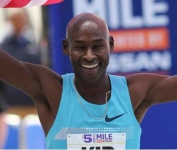 December 11, 2014
40 & older marks are second priority for two-time Olympic medalist and multiple U.S. record holder.
By Peter Gambaccini, Runner's World
In 2014, Bernard Lagat earned the silver medal at 3000 meters at the World Indoor Championships, kicked to another outdoor USA 5000 meter title, and had a best 5000m time of 13:06.68. He thought he broke the long-standing U.S. 5K road record, only to discover that the course was short by a miniscule amount.
On Friday, Lagat will turn 40. Track fans expect him to eviscerate the Masters world record books, including Eamonn Coghlan's indoor 1994 Mile mark of 3:58:15 and Anthony Whiteman's 2012 outdoor one of 3:58.79. James Li, Lagat's coach since the late 1990s, and Lagat estimate Lagat could run 3:55.
But Lagat is focused on Open, not Masters competition. His main mission for 2015 is to be part of the United States 5000m trio at the World Championships in Beijing.
"Forty is not a barrier," says Lagat, the only American male distance runner on the track ever to be poised to compete at such a lofty level in his fifth decade. He marvels at the UK's Jo Pavey, who won European Championships gold this past summer in the 10,000. "Oh my goodness. She's running like she's 20-something," Lagat says.
Continue reading at: www.runnersworld.com