Montoya, Chapus Win Fast adidas Dream Miles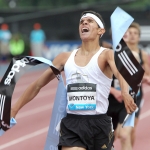 June 10, 2012
Deepest U.S. boys high school Mile ever - record 9 sub-4:05; and record three U.S. girls sub-4:40 in same race
By Brian Towey | ESPNHS.com
In a pair of historically deep Dream Mile races during Saturday's adidas Grand Prix at Icahn Stadium in New York, one champion had to be ready to overcome major disappointment from the previous week. The other just had to be ready for anything.
In the latter case, Bernie Montoya (right, PhotoRun) considered himself a contender, though perhaps not the favorite. So after leading a record nine finishers under 4:05 with his opportunistic final kick, running a U.S. #1 4:01.32 for 2012 (and #3 high school-only competition), he could barely contain himself.
"I definitely didn't expect (to win it)," said the bubbly Cibola (Yuma, Ariz.) junior, whose previous best was a 4:07.72 1600 meters. "If it was there, I was going to take it. I just didn't expect it to be."
For Harvard-Westlake (Studio City, Calif.) senior Cami Chapus, though, an uncharacteristic fifth-place finish in the 1600 meters at the California state champs on June 2 lingered as she looked to defend her title into the girls' Dream Mile.
"People just kept passing me and passing me," she said of that rare defeat. "Going into this race, I wasn't going to let that happen again."
She didn't, and now Chapus is the first two-time "Dream" champion, running a U.S. #2 4:39.64 (and Dream Mile record), leading two more under 4:40, another first in prep history.
Continue reading at: ESPNHS.com