Miller, Kampf Win USA 1 Mile Road Titles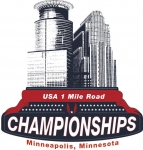 May 18, 2012
Medtronic TC 1 Mile hosts national championships; more than 2,500 participants at 8th edition under warm, windy conditions in Minnesota
By Charlie Mahler, Running USA wire
MINNEAPOLIS – (May 17, 2012) – Minnesota native Heather Kampf and former University of Wisconsin star Craig Miller won USA 1 Mile road titles at the 8th Medtronic TC 1 Mile in Minneapolis on Thursday evening. The two Olympic hopefuls won their first career USA titles with the victories and pocketed $4000 each for their efforts.
Kampf, 25, a Minneapolis resident and the runner-up in the event last year, clocked 4 minutes, 36.9 seconds to out-leg Alisha Williams of Denver, Colo., second at 4:39.6, and Detroit's Danielle Tauro, third with 4:40.0.
Miller, 24, who finished third at the men's race in 2011, ran 4:04.3, just three days after running a 3:37.13 personal best track 1500m race in Philadelphia. Last year's USA 1 Mile runner-up Aaron Braun of Flagstaff, Ariz. was second again at 4:05.1. Unheralded Scott Smith, a teammate of Braun's with the Team USA Arizona program, was third at 4:06.9.
Continue reading at RunningUSA.org
8th Medtronic TC 1 Mile: USA Men's & Women's Championship
Minneapolis, MN, Thursday, May 17, 2012
MEN
1) Craig Miller (WI), 4:04.3, $4000
2) Aaron Braun (AZ), 4:05.1, $2500
3) Scott Smith (AZ), 4:06.9, $1500
4) Kenyon Neuman (CO), 4:07.5, $800
5) Bobby Mack (NC), 4:07.8, $500
6) Benjamin Bruce (AZ), 4:08.8, $325
7) Edwin Sang (CO), 4:09.5, $150
8) Chris Rombough (MN), 4:10.0, $100
9) Jordan Horn (AZ), 4:10.8, $75
10) Darren Brown (TN), 4:11.9, $50
WOMEN
1) Heather Kampf (MN), 4:36.9, $4000
2) Alisha Williams (CO), 4:39.6, $2500
3) Danielle Tauro (MI), 4:40.0, $1250
4) Kellyn Johnson (AZ), 4:40.2, $800
5) Frances Koons (NJ), 4:40.5, $500
6) Meghan Peyton (MN), 4:41.1, $325
7) Laura Thweatt (CO), 4:42.0, $150
8) Tara Erdmann (CA), 4:42.9, $100
9) Mason Cathey (IN), 4:46.1, $75
10) Stephanie Pezzullo (NC), 4:47.3, $50
Full results and more at: www.tcmevents.org