Miler Rowbury Might Run 5000 at USA Championships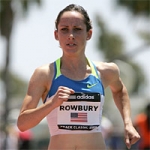 May 31, 2013
Two-time Olympian at 1500 meters is in the Prefontaine Classic 5000.
By Peter Gambaccini, Runner's World
Shannon Rowbury, two-time Olympic 1500 meter finalist and bronze medalist in the 1500 at the 2009 World Championships, may be in an unfamiliar position at 3:22pm Central Time on Sunday, June 23 in Des Moines, Iowa.
That's when the final of the women's 5000 meters goes off. And about 22 and a half hours after the final of the 1500, Rowbury may very will be there. "There is the possibility of doing a double there [at the USA Championships] so I'm keeping my options open," she explains.
Her plans may solidify after Saturday's 5000 at the Prefontaine Classic. Along with world record holder Tirunesh Dibaba, the Ethiopian whose world record of 14:11.15 is far beyond any American's grasp at this point, Rowbury in the field with compatriots like Kim Conley and Julia Lucas, all of whom hope to get the "A" standard of 15:18 for world championships qualifying.
Continue reading at: runnersworld.com