Miler Anderson Looking to Step Up Her Game in Doha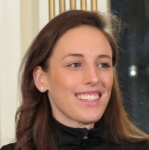 May 09, 2013
By Joe Battaglia, Race Results Weekly
DOHA, Qatar – (May 9, 2013) – Several days after finishing fourth in the 1500m at the U.S. Olympic Trials last July, Gabriele Anderson was finally able to get over falling two seconds shy of qualifying for London.
It was then that the pain gave way to a moment of clarity: she needed to get better.
"I took a lot of things away from the Trials experience, but one of them is definitely seeing that there are some jumps I need to make in order to position myself better in races to make those teams," Anderson said in an interview here. "After coming so close to making the Olympic Team, I realized that making these U.S. teams is something that is realistic for me."
Continue reading at: runnersweb.com