Medtronic TC 1 Mile Pro Q & A with Scott Smith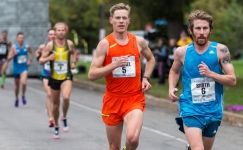 May 03, 2015
Northern Arizona Elite's Scott Smith is a highly versatile athlete having run 4:01 in the Mile all the way up to a 2:14:40 Marathon. He talks expectations for the Medtronic TC 1 Mile; 2nd stop on the BBTM Grand Prix Tour.
From Twin Cities in Motion
Scott Smith, who has the unique distinction of having placed in the top-three at both the Medtronic TC 1 Mile and Medtronic Twin Cities Marathon, answered some questions recently for TCM Blog readers. He will be part of this year's Medtronic TC 1 Mile field. Among other things, learn why Smith equates running a road Mile to racing to a mailbox.
What's your goal for the Medtronic TC 1 Mile?
It's hard to say exactly without knowing the field. This will actually be my fourth time in a row coming out for the event, although it was unfortunately canceled last year. I think I have been 3rd and 7th (maybe 8th) so I think if I finished in the top 5 I would be very pleased with that result.
What is your favorite speed workout when you're training for the Mile?
I'm not sure this technically qualifies as a speed workout but I love running hills to increase speed. It's a good way to work on speed/strength without having to be so concerned about pace. It's all about effort, which I like.
Continue reading at: www.tcmevents.org