Matthew Centrowitz takes lead, and then gold in Olympic 1500 meters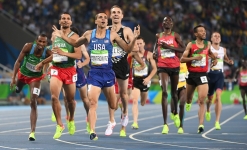 August 20, 2016
"I came into this championships with a different mind-set. Thought to myself, I'm in great shape. Just run to my capability. It wasn't a redemption thing for London. It was about being the best I could be on this day."
By Rick Maese, The Washington Post
RIO DE JANEIRO — It doesn't matter how many years athletes dream of it, how many times they fantasize about it, how many times they play it out in their heads. In the race of emotions, disbelief has a way of outpacing exhilaration.
So even though Matthew Centrowitz led from the start of the Olympic men's 1500 meter race Saturday and only briefly allowed another runner to pull in front of him, he still crossed the finish line a bit uncertain about what had just happened.
"I literally was still looking at the board, like, did somebody go by me? Did I really just win? Did I really just hold that caliber of a field off in the Olympic final?" Centrowitz said later. "I could not have scripted it any better."
Someday the shock might wear off, but the wave of emotions that swept over Centrowitz will linger for a long time. The Arnold native won the race with a time of 3:50.00 to become the first American to claim Olympic gold in the 1500 in 108 years.
"I thought on the best day I could maybe get a silver medal," Centrowitz said later. "Sure, in the back of my head I thought I could get a gold. But I would've been very, very happy with a silver."
After crossing the line, the 26-year-old Centrowitz took an American flag and circled the track, slowly processing how far he had come: a five-time All-Met at Broadneck High in Annapolis, a promising middle-distance runner at the University of Oregon, a runner who dealt with the frustration of just missing the podium four years ago at the London Games. He spotted his father, Matt Centrowitz, the two-time U.S. Olympic team member who coaches cross country and track at American University, in the stands and yelled, "Are you kidding me?"
Continue reading at: washingtonpost.com