Matt Centrowitz Q&A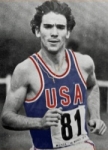 June 01, 2017
I started out wanting to be a quarter Miler... Then I realized that wasn't happening so I moved over to the Mile with Jim Ryun and Marty Liquori being the guys I admired.
By Gary Cohen
Matt Centrowitz is a two-time U.S. Olympian in the 1500 meters in 1976 in Montreal, Canada, and in the 5000 meters in 1980 though he did not compete in Moscow, Russia due to the U.S. Olympic boycott. At the U.S. Olympic Trials he finished in third place in 1976 and in first place in 1980. Matt won four consecutive U.S. Championships at 5000 meters from 1979 to 1982. In 1982, he set the American Record at 5000 meters in 13:12.91. He won a Gold Medal at 5000 meters at the 1979 Pan-American Games. The 1978 Oregon University graduate was on the Ducks' 1977 NCAA Cross Country Championship team. In 1976, Matt broke Steve Prefontaine's 1500 meter school record, running 3:36.7. He graduated from Power Memorial Academy in 1973 where he won state championships in the 800 meters, Mile and 2 Mile and was the first New Yorker to run a sub-9:00 2 Mile at 8:56.0. Matt was ranked as the country's #1 high school Mile runner at 4:02.7. He has the fourth best all-time high school 1500 meter time of 3:43.4 and still holds the state record at 1500 meters and the Mile. Centrowitz was an assistant track coach at St. John's University and coach for the Reebok Enclave, before restarting the track program at American University in 1999, where he has continued to coach crosscountry and track for 18 years. His personal best times include: 1500 meters – 3:36.7; Mile – 3:54.0; 2 Mile- 8:26.82; 5000 meters – 13:12.91 and 10,000 meters – 28:32.7. He was inducted into the University of Oregon Athletic Hall of Fame with the other members of the 1977 University of Oregon Cross Country team in 1998. His son, Matthew Centrowitz, is the 2016 Olympic Champion at 1500 meters. In early 2017 Matt's autobiography, 'Like Father, Like Son,' was published. He currently resides in Arlington, Virginia and was great to spend 75 minutes on the phone for this interview.
GCR: First off, when I read your recent autobiography, 'Like Father, Like Son,' one thing that really stood out was when your high school coach, Brother John Bielen, said when you committed to Manhattan that 'There is no better feeling than a child surpassing their parent.' You were a two-time Olympian, your son, Matthew, is a two-time Olympian who took home the 2016 Olympic gold medal at 1500 meters. How true was Brother John Bielen's statement?
Continue reading at: www.garycohenrunning.com