Master The Mile: One-Mile Training Plan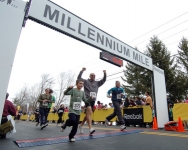 April 25, 2012
To race the perfect Mile, a runner needs to possess an equal balance of strength and speed.
By Mario Fraioli, Competitor.com
Think back to your elementary school days and the first race you probably ever ran: the gym-class Mile. Fast-forward a few years, through the countless 5Ks, dozens of 10Ks and the half-marathons and marathons you've completed. Racing the mile has likely been an afterthought unless you ran track competitively in high school or college.

Fortunately for those of us who weren't on the track team, or who would like to return to the simpler racing of our youth, all-comer's track meets are catching on in the U.S., and most meets offer that famous four-lap footrace. It's also noteworthy that stand-alone one-mile road races are popping up all over the country, offering an alternative to long-distance racing and a different way to connect with the sport.
Continue reading at: Competitor.com