Mary Cain sues former coach Alberto Salazar, Nike over alleged abuse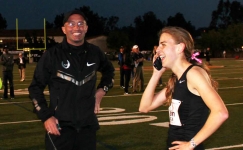 October 11, 2021
"Companies are responsible for the behavior of their managers, Nike's job was to ensure that Salazar was not neglecting and abusing the athletes he coached."
By Jeff Manning, The Oregonian / OregonLive
Mary Cain, the promising distance runner whose career fizzled after what she has described as four miserable years at the Nike Oregon Project, has filed a $20 million lawsuit against her former coach, Alberto Salazar, and their employer, Nike.
Cain accused Salazar of emotionally abusing her when she joined the team as a 16-year-old. The lawsuit portrays Salazar as an angry control freak who was obsessed with Cain's weight and didn't hesitate to publicly humiliate her about it.
That, she said, took a toll on her physical and mental health. Nike was aware, the lawsuit alleges, but failed to intervene.
Nike did not return messages. Salazar could not be reached but has previously denied abuse allegations, and he has said neither Cain nor her parents had raised concerns while she was part of the program.
In the lawsuit filed Monday in Multnomah County Circuit Court, Cain alleges Salazar on several occasions required her to get on a scale in front of other people and would then criticize her.
"Salazar told her that she was too fat and that her breasts and bottom were too big," the lawsuit alleges.
Salazar took to policing Cain's food intake, she said. At times, Cain was so hungry, she said, she stole Clif Bars from teammates.
Cain went to her parents for support. She alleges Salazar eventually tired of the parental interference.
"He prevented Cain from consulting with and relying on her parents, particularly her father, who is a doctor," said Kristen West McCall, a Portland lawyer representing Cain.
By 2019, Cain says she was deeply depressed, had an eating disorder, generalized anxiety and post-traumatic stress syndrome. She also was cutting herself.
Darren Treasure, Nike's in-house sports psychology consultant, knew of Cain's distress, the lawsuit alleges. But he's accused in the complaint of doing nothing about it, other than to share this "sometimes intimate and confidential information… with Salazar."
Nike did nothing to intervene, Cain alleges.
Continue reading at: oregonlive.com