Mary Cain joins the Oregon Project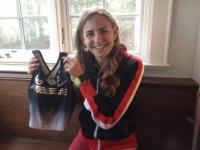 November 21, 2013
Q&A with teen Mile record-setter and her future plans
From Oregon Project
1: What is you best memory of this past summer in Europe?
MARY CAIN: Getting to compete in the World Championships was my best memory from this summer! I got to accomplish a huge dream of mine and had a blast doing it. Everyone on Team USA was extremely supportive and it was fun to watch and cheer on my teammates from Team USA and the OP!
2: You are still in High School in NY, how often will you be able to train with the Oregon Project?
MC: I am honestly not too sure yet! Hopefully I will get to visit the group a little more than I did last year, but not too much, since I do need to graduate from high school!
3: Now that you have your first job are you going to upgrade your 1980s flip phone? Anything else you have your eye on?
MC: Yes! I am super excited to be finally getting an iPhone; it should actually be here tomorrow! I will miss my good friend (or my Razzle), but it was time to make the switch into the 21st century. Since I've been rather deprived of these new technologies, though, I'm still rather confused by the idea of taking unflattering pictures of yourself for SnapChat. I'm sure I will catch on sooner or later, but right now I guess I'm just too much of a curmudgeon. It will be also nice to get Viber or Whatsapp so that I have the ability to communicate with people while in Europe! Otherwise, I don't have my eye on anything else.