Martinez puts 800 crash behind her, turns focus to 1500 at U.S. Olympic Trials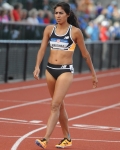 July 06, 2016
"I'm not putting the blame on anyone. That's how track is. We move on... I'm ready to bounce back."
By Scott M. Reid, Orange County Register
EUGENE, Ore. – By the time Brenda Martinez sat down alone with a turkey sandwich and her four dogs Monday night in the house she and her husband/coach Carlos Handler are renting in nearby Springfield, she had already turned her focus to the U.S. Olympic Trials 1500 meters later this week.
A devastating and controversial crash caused by six-time U.S. champion Alysia Montano tripping and shoving Martinez with 150 meters left in the 800 final earlier Monday might have derailed a Martinez victory, but the 2013 World Championship bronze medalist had no interest in looking in her rearview mirror.
"I'm not putting the blame on anyone," Martinez said Tuesday. "That's how track is. We move on."
That includes not speaking with Montano.
"Alysia tried to call," Martinez said. "I just don't want to deal with her right now. Anything she could have told me good or bad doesn't change the fact that I have to focus on the 1500 right now. I have to be selfish right now and focus on myself and what I have to do."
Continue reading at: www.ocregister.com