Martinez giving back to running community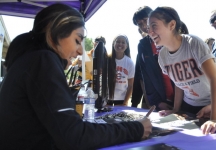 October 13, 2013
2013 World 800m bronze medalist signs autographs, poses for photos and hands out awards at Inland Empire Challenge cross country meet
By Allan Steele, PE Bloggers
DEVORE, Calif. — Brenda Martinez didn't need her track shoes for a workout on Saturday. Instead, her workout consisted of signing autographs for nearly five hours, posing for photos with smiling youngsters and handing out trophies at the Inland Empire Challenge cross country meet.
It was a busy day for Martinez, whose breakout 2013 season was highlighted this summer by a bronze medal performance in the 800 meters at the Track & Field World Championships in Moscow.
It was the first medal for an American woman in the event at a World Championship and has catapulted the former UC Riverside and Rancho Cucamonga standout into the world spotlight.
"People are calling, people are wanting interviews," her husband and coach Carlos Handler said. "More people are starting to recognize Brenda for her achievements."
She was certainly recognized on Saturday as high school runners lined up and waited patiently as Martinez signed posters and even shoes. She personalized each signature and took hundreds of photos with runners and teams.
Continue reading at: http://blog.pe.com