Manzano Mile Returns for Austin Marathon Race Weekend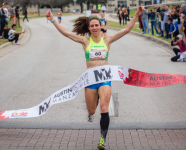 July 30, 2018
Second edition presented by Dole celebrates Milers of all speeds & abilities, from elites to children; $6000 prize purse available
From High Five Events
The Manzano Mile presented by DOLE® will take place on Saturday, February 16th, during 2019 Austin Marathon weekend. Dole Packaged Foods' return marks the second year of the $6000 prize purse, continued race-day support and increased involvement with the popular Mile road race.
Event registration is now open. Participants can register for the timed Mile for $30, while the fee for the Future Milers of America (9 & under) is $10. Current Austin Marathon and Half Marathon registrants will also receive a 50% discount when they add the Manzano Mile during their registration. Participants can register, read Manzano Mile details and review prize purse breakdown on the Manzano Mile webpage HERE.
"On behalf of Dole Packaged Foods, we are proud to support Leo and his efforts to encourage others to lead a healthy and active lifestyle," said Matt Ingram, Director of Sales for Dole Packaged Foods. "We look forward to supporting Manzano Mile participants of all ages and abilities on February 16, 2019!"
The second edition will begin at 11:00am and take place entirely on Riverside Drive. The course is next to the Health & Fitness Expo at Palmer Events Center. Participants will receive a bib and a Manzano Mile race shirt. Packet pick-up will take place on-site and begin Saturday at 9:00am.
"I'm thrilled that Dole Packaged Foods will continue their support of Manzano Mile and be involved during the popular Austin Marathon weekend," said Leo Manzano, Austinite and two-time Olympian. "Manzano Mile highlights athletes of all abilities, including elites, up-and-coming runners, families, and the next generation of Milers!"
Last year's male elite field created a buzz with their photo finish. Emerging star Daniel Herrera (4:11.35) crossed first, followed closely by Yasunari Kusu (4:11.69) and Dylan Blankenbaker (4:11.84). For the women, Dana Mecke finished in 4:47.08 with Austinites Jennifer Hall (4:51.72) and Mary Beth Hamilton (4:56.67) second and third, respectively.
The Austin Marathon will celebrate its 28th year running in the capital of Texas on February 17, 2019. Austin's flagship running event annually attracts runners from all 50 states and 30-plus countries around the world. Having start and finish locations just a few blocks apart, being within walking distance of many downtown hotels and restaurants, and finishing in front of the picturesque Texas State Capitol makes the Austin Marathon the perfect winter running weekend destination.
Manzano is a highly decorated track star, four-time USA champion, seven-time Team USA member, two-time Olympian and silver medalist in the 1500m at the 2012 Olympic Games. He was the first American male to medal for USA in the Olympic 1500m since 1968. Manzano attended Marble Falls High School where he was a nine-time Texas 4A State champion in track and cross country. Manzano was accepted to The University of Texas and won five NCAA National Championships and was a nine-time All-American.