Making the Most of Your Mile: The Minnesota Mile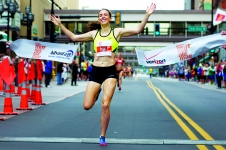 September 11, 2013
The Minnesota Mile was held on Sunday, September 8 and witnessed not only blazing fast new course records, but the fastest Miles ever run on Minnesota soil. Ben Blankenship, a Minnesota native and University of Minnesota Golden Gopher alumnus, lowered his personal best winning a close finish in 3:52.7 over two-time defending champion Craig Miller. While Gabriele Anderson, also a Minnesota native and Golden Gopher, returned to the states from her European summer tour to win convincingly in a new best 4:21.3.
The Minnesota Mile was the 14th and final stop on the inaugural BBTM Tour 2013 and featured more than $20,000 in prize money and citizen races spanning from semi-elite to recreational runners and youth.
We sat down with Public Relations Director, Bob Gustafson, who joined the Grandma's Marathon organization in 2006 as they were planning to revitalize the Minnesota Mile. We discuss the fast times put up by the professionals, Minnesotan Milers and the mission of their organization and responsibility to providing opportuntiies for America's best athletes.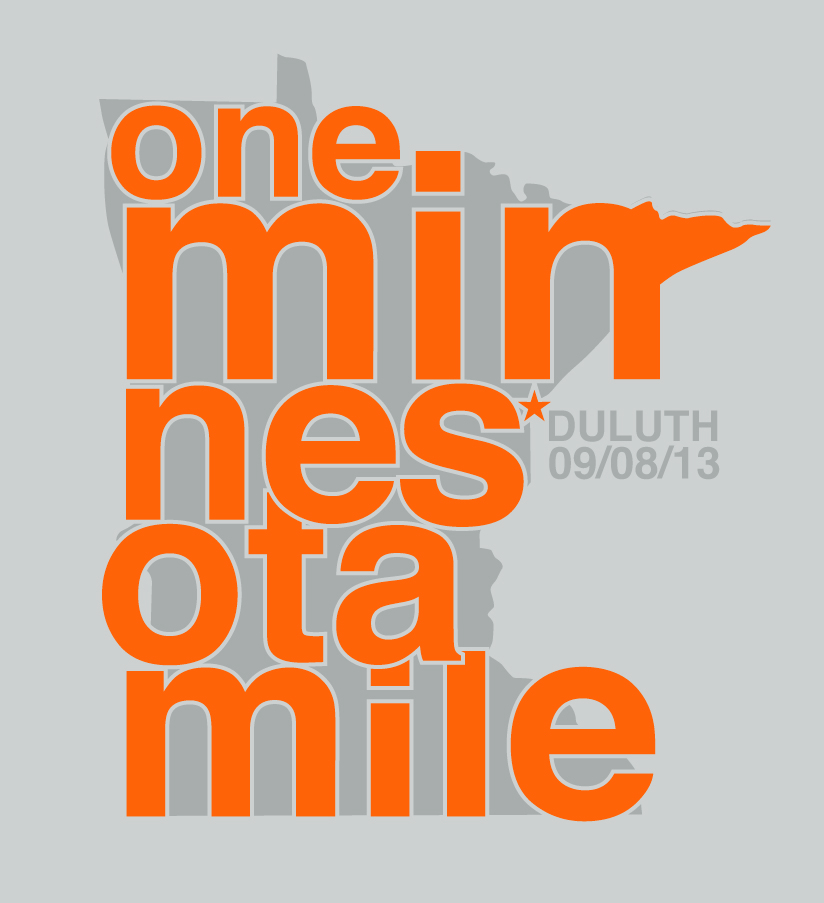 BBTM: First, congratulations on hosting such a fast and exciting professional race along with the entire Minnesota Mile festivities. How is it feeling?
Bob Gustafson: 48 hours later our office and the town is still reeling from the festivities on Sunday and the fast times that were secured here at the Minnesota Mile. It was a perfect day really. Everything laid out ideally for the runners. It was a cool, it wasn't humid, we had overcast skies and a nice tailwind treating the runners. I'm sure everyone woke up and saw the tailwind and had smiles on their faces.
The professional times were fast, but we also have numerous heats including semi-professional, recreational and a kids race. Those times were also anywhere from 10-15 seconds faster. It was a phenomenal day for us to also have seven men break the course record, which had stood since 2010, and to have nine go under four minutes [editor's note: eight officially - road times are converted to the next full second]. We had ideal weather conditions, ideal course conditions and everyone in Duluth who witnessed the races realized it was something special.
The previous Minnesota state Mile bests were held by Ray Flynn (3:55.52, 1985) and Sara Hall (4:30.8, 2010 - Medtronic TC 1 Mile). What's it like to know the fastest Open Miles were run in Duluth?
It's a phenomenal feat for those athletes and for us to boast here about our course. I think speaking on behalf of the professional athletes, it was neat to have a couple Minnesotans win the Minnesota Mile, specifically a couple of University of Minnesota Golden Gophers that took the titles. It speaks to the running community and the job those athletes do as Minnesotans. Selfishlly we were proud to see Minnesotans win it and take home the top prize.
Minnesotans certainly are strong in the middle distance, especially the Mile. What's going on up there?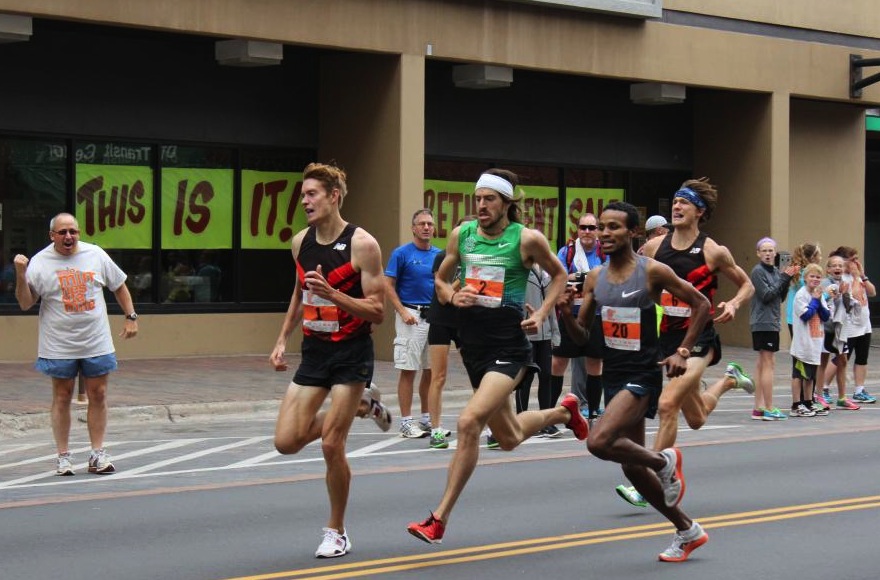 Photo Credit: Andrew Michalek
Absolutely. Gabe has had such a great year over in Europe. She came home jet lagged and you would think it would have slowed her down. But, she mentioned it felt like she was running in the evening because that's how her body was feeling coming back from Europe. All the stars aligned for her that day and she ran a phenonmeal race.
And for Ben Blankenship coming off of a couple wins both at Falmouth and the Michigan Mile, he was on fire and we expected a good race out of him. Boy did he certainly deliver. I think anytime you get Craig Miller in the field you're going to have a competitive race.
We were thrilled with the field and thrilled with all of the races, elite all the way down to the recreational and kid's races.
The Grandma's organization has developed a reputation that prides itself on cultivating and providing opportunities for Americans, especially at the longer distances. What was the impetus for bringing back the Mile in 2006?
The race director, Scott Keenan, wanted to bring back the Minnesota Mile and our first actual event was in 2007, but the planning started in 2006. Keenan, who recently retired last month after being with the organization for 37 years, having started Grandma's Marathon with 177 participants, started the first Minnesota Mile on November 15, 1991 and it was one of the only other professional Miles behind the Fifth Avenue Mile. Scott looked up to Fred Lebow quite a bit and he thought, 'let's run a Mile race'. It was in November, which is kind of an odd time to race here in Duluth when by that time there is at least a couple of inches of snow on the ground, but it was Scott's idea to put this Minnesota Mile together.
He saw it grow, but then after seven years for numerous reasons it ceased to exist. In the mid-2000s, he wanted to do something different and wanted to add a new race to our calendar. He came up with the idea of bringing the Minnesota Mile back and not only making it open to the elite runners, but also to the citizen runners, making it a festival more than anything else. When he originally brought back the Minnesota Mile we had two seperate legs to it. We had a Minnesota Mile St. Paul in July and the Minnesota Mile Duluth in September. We had elite fields in both and after a couple of years it was too much on our staff and trying to coordinate everything with other races happening in July as well. We decided to put all of our resources and prize money into one race and do the best we can in our own backyard.
Each year we've tried to increase the prize money for the elite runners to bring in the best talent we possibly can and we've been successful with that. This year to get above $20,000 for our prize purse was a big step for and I know the athletes appreciated it. Not only to pay $3000 for the top prize, but also to pay eight deep, we were able to get more athletes rewarded and it was beneficial for everybody. It's a smaller race for us speaking of the overall total numbers that we get, but it's perfect with the timing for the elites with two weeks until Fifth Avenue. Since it's the first Sunday after Labor Day it is a little bit of a struggle to get the citizen runners out, but we were almost at 600 finishers entries, which is good for this type of event.
One of the carrots that we offer for the citizen runners is handing out 250 entries for the Garry Bjorklund Half Marathon in June. The Half Marathon is a popular race that typically can only be registered for through our lottery process in February. This is a chance for citizens to guarantee a spot in that race and one of the unique parts of the Minnesota Mile.
The Mile is a unique distance and it's been so much for us to be part of Bring Back the Mile; it's our first year and our initial journey on the Tour and it's been nothing but fantastic for us. It's rewarding to hear the stories of those who participated in it; not necessarily the elite athletes, but the citizen runners who may have never run the distance. Usually it's a 5K or 10K or half-marathon and I can't tell you the number of people after the race who told me, "I had no idea I could run a Mile that fast or I had something left and now I know for next year!" It's not a race that many citizen runners take part in that often, so for us to be able to put on this shorter distance is exciting and was really just a whole morning of great races and festivities obviously culminating with the course records on the elite level.
For BBTM it's great to hear as we continue to elevate and celebrate the Mile as a great benchmark for anyone's fitness. Often times the Mile race can hurt as much or more than a longer distance!
Absolutely. Many people say it's going to hurt the entire Mile, so you might as well run it as fast as you can and get the pain over with as quick as you can. It's a lot of fun and the only Mile that we put on serving as sort of a wrap-up for our season. To be able to host the athletes that we did and having such a high quality field, it was very exciting for us. We're already looking forward to next year.
To put on a Mile race it does take significant resources to host a professional field without necessarily being able to offset the costs through race entries like you can with a 9,500 person field in the Grandma's Marathon. How have the community sponsors responded and how does the Minnesota Mile play a role throughout the year within the calendar of other races?
Great question and a number of factors play into it. We are blessed to have a great sponsorship base that is actually a separate sponsorship group from the Grandma's Marathon that promotes, sponsors and funds the Minnesota Mile. Some of the sponsors are the same, but it is a separate sponsorship race. The hospitality industry here in Duluth is wonderful and we're able to utilize them for some hospitality needs.
With our prize purse and the fact that we're not a big race, it is an investment for us to be able to put this one on. It's by no means a big money maker for us, but it is part of our mission and responsibility to be able to promote this race and keep the prize purses where they are and increase them every year as we have been able to do. A part of why we're here we believe is to promote and showcase the best athletes in the world, whether that's at the Marathon, Half-Marathon or Mile distances. We're blessed with a board that understands that vision and is a partner that understands what is necessary to promote our events and make sure that no matter what the distance, the sport of long distance running or in this case the Mile doesn't get pushed away or get put on the back burner. It is an investment for us to put on this event and we also feel it is an important one and a necessity to showcase the Milers in this country and in the world.
How is the Mile used as a tool to impact the community and the youth programs the Grandma's Marathon organization supports?
One of the best programs I feel that our organization is involved with is a six-race series called 'Wednesday Night at the Races' and it's for kids 14 and under. We have a Young Athletes Foundation, which is administered by the Grandma's Marathon, but it has its own separate committee. The Foundation puts on these races for six consecutive weeks in July and August. We go to six different locations each week and offer free kids' races for anyone 14 and under. The youngest kids will run an 1/8 of a Mile and the older kids, 11-14 year olds, get up to a half mile. Some of the races are on the track, others are in parks so that they simulate a Cross Country style venue. These races draw about 500 kids every Wednesday and we've been doing these since 1990. Through races like the Minnesota Mile and events like the Wednesday Night at the Race we are able to expose kids to running and show them that it can be an enjoyable type of experience. We want to get them outside, get their families out, get them away from the electronic heavy age that we are in. We want to get them outside and expose them to running and show them that this is not only fun, but rewarding and good for you.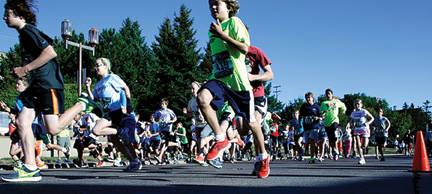 It's perfect timing for the Minnesota Mile since we're able to tell all the kids and parents about the event that we have coming up. We offer the kids' race at the Minnesota Mile free of charge to them, just as the Wednesday Night at the Races are free. It was rewarding for us to see the number of kids at the Minnesota Mile race that we recognize from Wednesday Night at the Races. The number of kids who participated in the summer were the ones we saw at the Minnesota Mile. It's important for us to reach the kids and show them that the running is an enjoyable activity and also to get their fitness up to lead healthy lives.
Also, between the kids and the citizen runners, we've heard from numerous people that they stuck around and watched the elites run and were energeized and amazed at these athletes running 3:52 and 4:21. If anything, it encourages them that while they may not be able to run 3:52 next year, they can lower their 8 minute Mile to 7:45. Just about everybody that I talked to said that they'll be back and I am encouraged with what I just saw. We're still talking about the day in the office.
Regardless if you're a 3:52 Miler or a nine minute Miler there is always that 'I can do better feeling' that they were left with. That just about sums it up for us. It's why we're here. We encourage and promote the Mile and racing in general to everyone, whether it's the professional fields or the recreational runners and the kids.
It is exciting for us at BBTM to see the impact on the 4 year old, the 40 year old and the 80 year olds.
It's exciting for us too. We see it, we hear it. You hear from people that they just ran on the same course as Blankenship ran 3:52 - 'I ran the same course and crossed the same finish line; I might not be able to run sub-4, but maybe next year I can run sub-7' or whatever the case might be.
Do you have a barrier or what is your Mile PR at the Minnesota Mile?
(Laughs) Not at all. I haven't run the Minnesota Mlie because I'm too busy working, but my goal is always just to finish in races, which is a lot of people's goal. It's fantastic really. I know a lot of people who on Sunday was the first race they participated in and their goal was to finish. They did and couldn't have been more proud and happy about their accomplishment. We hope they've left with a pleasant experience, come back next year and ultimately try our 5K, 10K, Half-Marathon and Marathon. They'll be hooked and life-long runners; one of the best addictions you can have.
Thank you and congratulations again to the entire organization on the Minnesota Mile.
Thank you and we appreciate everything that BBTM is doing and we look forward to seeing things grow.