Making the Most of Your Mile: Manzano Mile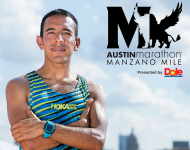 January 26, 2018
BBTM Featured Event, Manzano Mile presented by Dole, is Saturday, February 17 as part of the Austin Marathon weekend of events
By Bring Back the Mile
We sat down with Leo "The Lion" Manzano, a HOKA ONE ONE sponsored athlete, two-time Olympian and 2012 Olympic 1500m silver medalist along with William Dyson, Communications Manager at High Five Events in Austin, TX, producers of the Austin Marathon. The Manzano Mile presented by Dole will kick off the weekend of road events on Saturday, February 17 and features a $6000 prize purse.
Manzano, one of Bring Back the Mile's first supporters, first launched the Manzano Mile in 2012. He not only holds the Texas state outdoor Mile record of 3:55.98 from his event, but also a blistering 3:50.64 (#10 All-Time in the U.S. male). We discussed the origins of the Manzano Mile, its connection with the Austin Marathon and how events give back to their community in time of need.
Register today for the Manzano Mile, a great opportunity to kick-off your 2018!
Table of Contents (links below pop-up YouTube video)
00:00 - Introductions
01:10 - Discussion of Dole as Presenting Sponsor of the Manzano Mile and $6000 prize purse
02:15 - What is a Grand Master?
02:40 - Origins of the Manzano Mile
04:45 - The Manzano Mile course and the role as a great family event
07:15 - Calling out Northern Arizona Elite to show-up for the Manzano Mile
08:07 - The Austin running scene
10:08 - Leo & William's favorite Mile moments
13:25 - Is Leo racing the Manzano Mile?
14:20 - Events giving back to the community. How High Five Events gave back to Hurricane Harvey efforts.