Making the Most of Your Mile: Kansas Road Mile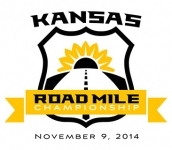 October 30, 2014
Presented by HOKA ONE ONE, the interview series speaks with Trevor Darmstetter, Race Director for the inaugural Kansas Road Mile Championship.
By Bring Back the Mile
It's typically difficult to find road Mile events after September in the U.S., but the inaugural Kansas Road Mile Championship, held in Wichita at the Towne East Square on Sunday, November 9, is bucking that trend. In what is arguably the home of the Mile in the U.S., Kansas has bred the likes of Olympians Archie San Romani, Glenn Cunningham, Wes Santee and Jim Ryun as well as recent prep star Alli Cash, who set the Kansas State Mile girls' record in 2012 (4:39.98).
Race Director, Trevor Darmstetter, times or directs more than 60 races in the area, but hosting a Mile he thinks will be one of the great events on the Wichita running calendar. A USATF Missouri-Valley Road Mile Championship, the event in what Trevor describes as a "Large Town", will include U.S. Mile record holder Alan Webb as an Honorary Starter and have strong competition from youth to elites, including 2009 World Champion at 1500m, Yusuf Kamel (BRN).
BBTM: Why a Mile?
Trevor: BBTM does a pretty good job of highlighting that the Mile is America's Distance. Everything we relate to is in Miles, so it's a distance that holds that special place in America, but especially here in Wichita with our rich history of fast Milers. Guys like Jim Ryun and Archie San Romani, Wes Santee and Glenn Cunningham.
What's in the Kansas water?
Good 'ol farm boys (laughs). My grandfather went to school with Jim Ryun's brother and they just put a lot of Miles in and a lot of hard work.
Why did you make the decision to host an untraditionally late road Mile on the calendar?
We have a great relationship with the Wichita school district and the Kansas Cross Country season ends in late October. We wanted to have something in that down period in between Cross Country and the Track & Field season for kids to participate in. We also wanted it in a time frame where there isn't a whole lot else going on around the country.
Overall how has the event been received, thus far?
It's been really good. A lot of the coaches have worked in getting their kids out. Another event we have later in November has always had a large school presence, so a lot of those kids are participating in this Mile.
You are bringing in American great and current U.S. Mile Open and High School record holder Alan Webb. How did that come about?
We were working with the colleges and Newman University was looking to have somebody speak to their athletes before their conference meet. One thing led to another and we found a way to bring Alan out to speak to them, but also for the Mile. He'll be speaking at Newman on Friday, we'll host a community event at GoRun Wichita on Saturday and he'll be the Honorary Starter on Sunday for our races as well as helping hand out the awards. We're excited to have him here.
The race is being held around one of the larger malls in the area, Towne East Square. Why did you decide on this location?
We were looking for a place where it would be record eligible, so we couldn't do a point-to-point. There used to be one here called the Drag Down Douglas in the 70s and 80s. It was a straight, fast race down one of the flattest streets in Wichita. We wanted to look for a loop that was just about a Mile long, so we could have all our activities in one place and nothing would feel disjointed. It worked out really well to have it surrounding Towne East Square.
How did the Towne East Square businesses take to having this event in their backyard?
I time or direct over 60 events here in the area and I've done everything from getting ordinances changed to run on New Year's Eve to having some of the larger races that shut down a bit portion of the city. We have a lot of contacts with the city, but also major sponsors around town, both of which are important in helping put together a great event. Each city is a little different.
How important is it in Wichita that the community knows it's a homegrown event and supports local schools or organizations?
I like to refer to Wichita as a "Large Town". We have a small town community feel, but it is also large enough that we have a lot of national chains and Wichita is "The Air Capital of the World". You can't just come in and run a cookie cutter race you see pop up in other communities.
Right out of the gates you have a major sponsor in the Kansas Spine & Speciality Hospital. Can you share how this partnership came about?
This is our first time working with them. One of GoRun Wichita's co-owners is Dr. Randy Mijares who works a lot with the Kansas Spine and Speciality Hospital. He was able to speak with them and get them on board in supporting the Kansas Road Mile.
Did any of the sponsors question holding just a Mile event?
It is a little bit of a chance for us in Wichita. By far 5Ks are the most common distance around here, so it was different to host a Mile-only event, especially one with different divisions from youth all the way to the elite. We worked with the sponsors to make them comfortable with the idea that this could be a great event on the calendar.
As a USATF Missouri-Valley Road Mile Championship, do you know when the last time such an event was held?
I'm not sure on the exact date, but it hasn't been recent, that's for sure. They are excited to be a part of our event and were on board from the beginning.
Given this is a late Mile on the calendar have you had any traction with professional athletes?
The 2009 World Champion at 1500m, Yusuf Kamel, saw the event on Bring Back the Mile and wanted to get after one more fast race. Ben Blankenship has also registered along with a couple of other NCAA All-Americans. On the women's side, Aliphine Tuliamuk-Bolton, the Missouri Valley record holder from 3K to 10K at Wichita State is coming out as well. The area also used to be a hub for national class runners in the 70s and 80s and most of them have stayed around. Many are in their 60s or 70s now and are still racing. We expect some very fast Master times as well.
With so many great Milers born and raised in Kansas, hosting a Mile seems like a no-brainer, especially at the High School level, yet Kansas is one of the states that goes out of their way to run a 1600m race. Is the Mile distance beginning to resonate there at the Federation level?
It definitely has. We're also one of the few states that runs a 4K for girls in Cross Country instead of a 5K. Kansas can be a little slow to change, but there is initiative to not only add the 9-plus meters to the 1600m and run a Mile at the High School level, but also have the girls run a 5K rather than a 4K in Cross Country.
What can participants expect from the event after they're done with their Mile race?
P.F. Chang's will be handing out chicken lettuce wraps to all the participants. There will also be multiple vendors highlighting what they do best. We're also making the awards ceremony quite an event. We have the Kansas road running Mile records and we will be able to highlight how many people have set a record for the Mile that day. It'll be a wonderful time for everyone.
Good luck, Trevor, and go Kansas Road Mile!