Making the Most of Your Mile: Adrian Martinez Classic

May 29, 2014
Adding USA Milers Club High Performance races, the Adrian Martinez Classic in Concord, MA attracts top talent for an exciting community Track & Field "evening of Mile races for all ages and abiliites."
By Bring Back the Mile
The Making the Most of Your Mile interview series is presented by HOKA ONE ONE.
Race Director Stephen Lane wants Track & Field to be more rock 'n' roll with events being a big community party. Now entering his sixth year hosting the Adrian Martinez Classic presented by HOKA ONE ONE, the Concord-Carlisle High School (MA) coach is well on his way to accomplishing his goals. In addition to expanding on the community experience, the 2014 edition has become a USA Milers Club High Perfomance Meet and will be attracting some of the nation's top male and female talent to Massachussets at 800m, 5000m and the meet's signature event, the Adro Mile. The Adro Mile will feature HOKA ONE ONE athlete and Olympic silver medalist Leo Manzano. More than $10,000 in guaranteed prize money is available at the Adrian Martinez Classic along with $1000 bonuses for men breaking 4:00 and women breaking 4:30 in the Adro Miles.
Started in 2009, the Adrian Martinez Classic honors a 2002 graduate of Concord-Carlisle High School, a top runner and team captain for the Patriots. Martinez suffered sudden cardiac arrest while playing soccer in 2006, just two months after completing his bachelor's degree in Mathematics at Williams College. Proceeds of the event support the Adrian Martinez Scholarship Fund at Concord-Carlisle High School (which is administered by the CCHS Scholarship Fund), and for the Friends of CCHS Track & Field, which supports the Track & Field teams at CCHS.
BBTM: How did the Adrian Martinez Classic come together?
Steve: The Adrian Martinez Classic started back in 2009. I had been thinking about what would be the right way to honor Adrian and what would be the right way to do something different and interesting in the running community. I didn't want to do another road race, not that I don't like road races, but I was looking for something that would be a little bit separate from the traditional experience that runners have access too. Adrian was a great Miler and to be honest I have always loved the Mile too. I think having people surround a track talking and cheering is such a great environment to have that you sometimes don't get to experience as a fan of road races. On the roads everyone is spread out—you see people at the beginning and at the end, but typically not the whole race. With the track you get to participate as fans in the entire race.
You offer quite a bit of youth races and even a family 4 x 4 relay. While there is a High Performance portion of the Adrian Martinez Classic this is very much a community event first. Was this the intention from the beginning?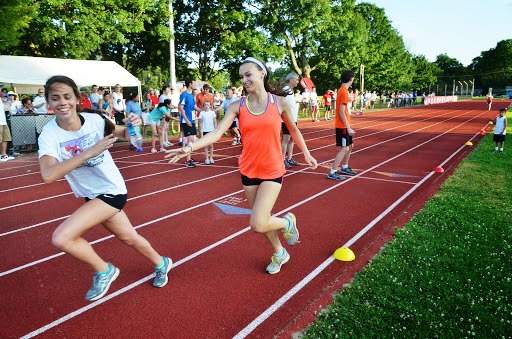 Thats exactly right. We wanted to try to reduce the fear or intimidation of coming down to the track. Parents, athletes and fellow coaches discussed what we thought it would take to get people on to the track, hoping that everyone would have a great time, but knew they just need to experience it. So, we included a "First Timers Mile", which is for people who have never tried anything on the track before. With the Youth races we wanted it be a family experience, bringing out as many generations as possible to the track on the same day; sometimes the parents run alongside the kids. The 'Family 4 x 4 Relay' was started last year at the suggestion of one of our high school's team captains. It was awesome with everyone getting into it; I was afraid a dad was going to pull a hamstring on that final leg! The first year was terrific and it quickly became an event favorite.
What is the Concord, MA running community like?
It's a great little running community. There is a really nice 4th of July road race, one of the nearby elementary schools organizes a 5K that attracts hundreds of little kids. At Concord-Carlisle High School we have upwards of 150 kids on the team, which is 15% of the school doing track. There is also a great group of older runners that meet on the weekends to run.
If you're a history buff you may think of the Revolutionary War. If you're a literature buff you might think Emerson and Thoreau. But, its a nice little running community too and the greater Boston elite running community is starting to boom. Boston already has so much running history, but its becoming an elite destination with Terrence Mahon's new group and various shoe companies in the region.
Not to mention Massachusetts never replaced the Mile with the 1600m, the only state to stick with the historic distance! What do your athletes think about the rest of the country running the 1600m?
When we get to travel to other places for meets or when they are looking at race results from other parts of the country there is a little bit of 'wait...1600m?' I then have to get out the calculator to do the math. They wonder what is wrong with the Mile, a perfectly good event. I sympathize with them.
I remember when I was running in high school and thinking about breaking the 4 minute Mile barrier (or at least a high schooler breaking 4 minutes in the Mile!). You had to try and convert the times and wonder what you would need to run to be a sub-4 minute Miler. There is so much history and romance with the Mile, but once math gets involved it gets a little less romantic. I wish everyone else would, to use your line, 'bring back the Mile'. I think it would be terrific for the sport.
The Adrian Martinez Classic has grown its prize money for elites with its new HOKA ONE ONE and USA Milers Club partnerships. How excited are you with this new elite athlete development evening that you guys are putting together?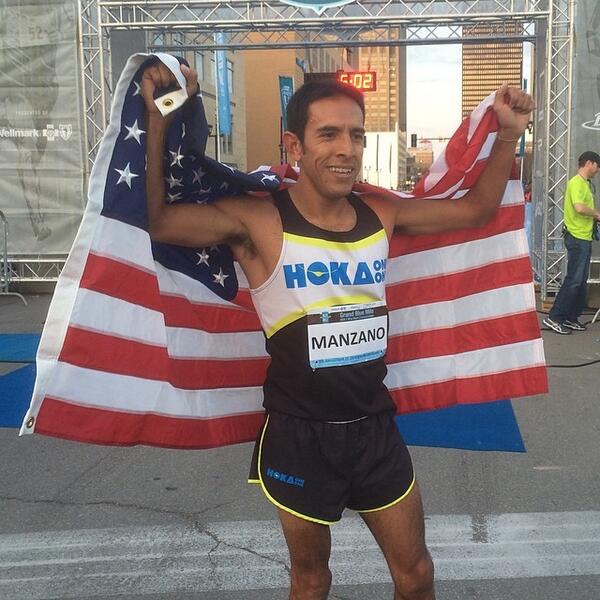 We are thrilled on many levels. In speaking with the HOKA ONE ONE President Jim Van Dine and others, everyone is very excited. Their approach to HOKA is understanding the value of trying something different. From an event standpoint, this is where I am coming from and where it seems the BBTM campaign is coming from. There are few opportunities for professional athletes on the east coast to compete outside of the indoor season. I'm not saying it has to only be the Adrian Martinez Classic, but we're here and trying to make a go of it. HOKA's vision is great and they're a great partner to have.
You've also brought on board elite athlete coordinator Jonathan Marcus and are working with Peter Thompson of the USA Milers Club. How have the fields come together?
Fields will be published early next week, but they're coming along great at all distances. Having an Olympic silver medalist, Leo Manzano, competing is incredible. Jonathan has been great as has Peter. In honor of Adrian we want to keep the Mile as the signature event, but it's great that we're able to add more events to round out the event.
What can fans expect at the Adrian Martinez Classic? Will there be some BBQing?
There will be a local BBQ company serving up great food. There will also be ice cream from a local ice cream vendor right here in town. We'll also have great music with local bands. The layout is going to be a little different than what most track people are used to. The track is not at a school, but in a beautiful park with lots of green space. The kids can kick a soccer ball around, play volleyball; it's going to be an all-around great environment.
I want to see a couple hundred or a thousand people lining the track, hanging on the rails and in the trees. We want this to be a little different by focusing on the community and giving them the opportunity to see some really incredible atheltes. That in return is not only exciting for the fans, but for the athletes too. We want to give them an experience that leads them to want to come back and more importantly spread the word about track.
It can be exciting and fun for everyone, while showcasing really fast athletes. We want to provide the community with an experience that leads them to not only come back, but also to spread the word about track.
Thank you so much for your time Stephen and good luck!
Great, thank you for the support.