Making the Most of Your Mile: The Navy Mile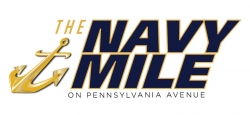 September 27, 2018
BBTM GP Tour final stop on Sunday, September 30 celebrates its 4th year of Mile races on Pennsylvania Avenue in our nation's capital
By David Monico, Bring Back the Mile
The 4th The Navy Mile, presented by USAA and final stop on the BBTM Grand Prix Tour 2018 can be broken up, much like the four quarters of a Mile race, into four parts. The first is an event by and for the United States Navy community organized by the National Capital Council of the Navy League that serves, supports and stands with all the sea services of the United States. The second is to honor service members who dedicated their lives to the country. The third is an event for the families, kiddos, parents and the public-at-large wanting to experience a fast and fun race unlike anything else on Pennsylvania Avenue. And the fourth is an elite men's & women's Mile with $15,000 in Open prize money to cap off the racing season of America's Distance in America's Capital: Washington, DC.
The men's & women's BBTM GP Tour final standings will be decided at the finale that will award an additional $2500 to the GP series champion as well as $1000 for second, $750 third and $500 fourth. Headlining the elite fields are Nick Willis, two-time Olympic medalist from New Zealand, and the Queen of the Road Mile Heather Kampf, 2016 race champion and event record holder (4:38).
BBTM sat down with Charlie Hautau, Chairman of The Navy Mile organizing committee and Vice President of the National Capital Council of the Navy League, to discuss the 4th edition, the event's and organization's committment to the sea services and Washington, DC community and his personal history in Track & Field.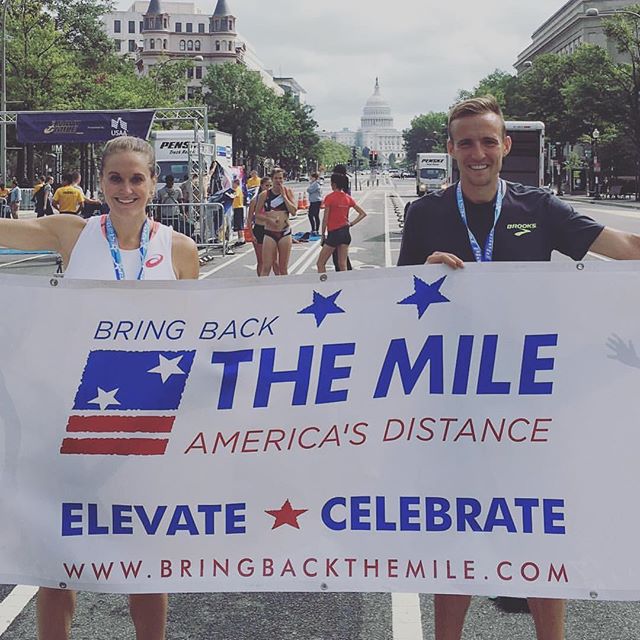 BBTM: Let's start with your background as a Miler in the Navy.
Charlie: I ran track and cross country at the Naval Academy and I was kind of your typical walk-on. I was not recruited by any means, but I had the good fortune of having Al Cantello as my coach who just retired from being the cross country coach at Navy; we've had a long relationship which was just great. Like I tell everyone, I saw the backside of many great Milers. I wasn't necessarily the standout, but I contributed to the team; I did okay. I participated a little bit in the CISM program which is the international military athletic program after I graduated. Then obviously reality sets in; I was a Navy pilot and then I drove ships over an almost 30 year career. Over the years it's been great to keep in touch with the track and cross country communities.
Did you find that being a runner and on the track team informed and kept you focused in any way as a pilot or was it vice versa?
I think it's a bit of back-and-forth. But I do think that anyone who participates in collegiate or high school athletics knows that it gives you confidence that if you put the work in and you have some God-given talent and a bit of humility, you can go places. I think it's reinforced that hard work can pay off and it can enable you during the hard times later in life, whether you're on Wall Street or whether you're launched off the deck of aircraft carriers or you're doing other stuff throughout the world. The usual quote that "the playing fields of Eton" definitely prepares you for later in life.
You have worked with the Navy League for some time now and are currently serve as the Chairman of The Navy Mile. What was the impetus for helping organize this great season-ending Mile in our nation's capital?
Well it was, of all things, I think my Naval Academy roommate who sent me an article on Bring Back the Mile; so it's back to you guys. He said, "Here's your comeback effort." I kinda laughed at it. But the council that I've been a member of for the last decade was looking for additional fundraising opportunities and we had not done a running event. We have have some other great events in town with the Marine Corps Marathon, Army Ten Miler and Cherry Blossom and we wanted to do something unique. I was aware of the Pennsylvania Avenue Mile, which preceded us but that's been dissolved a few years before, so we said let's try to resurrect that effort and make it more Navy-focused.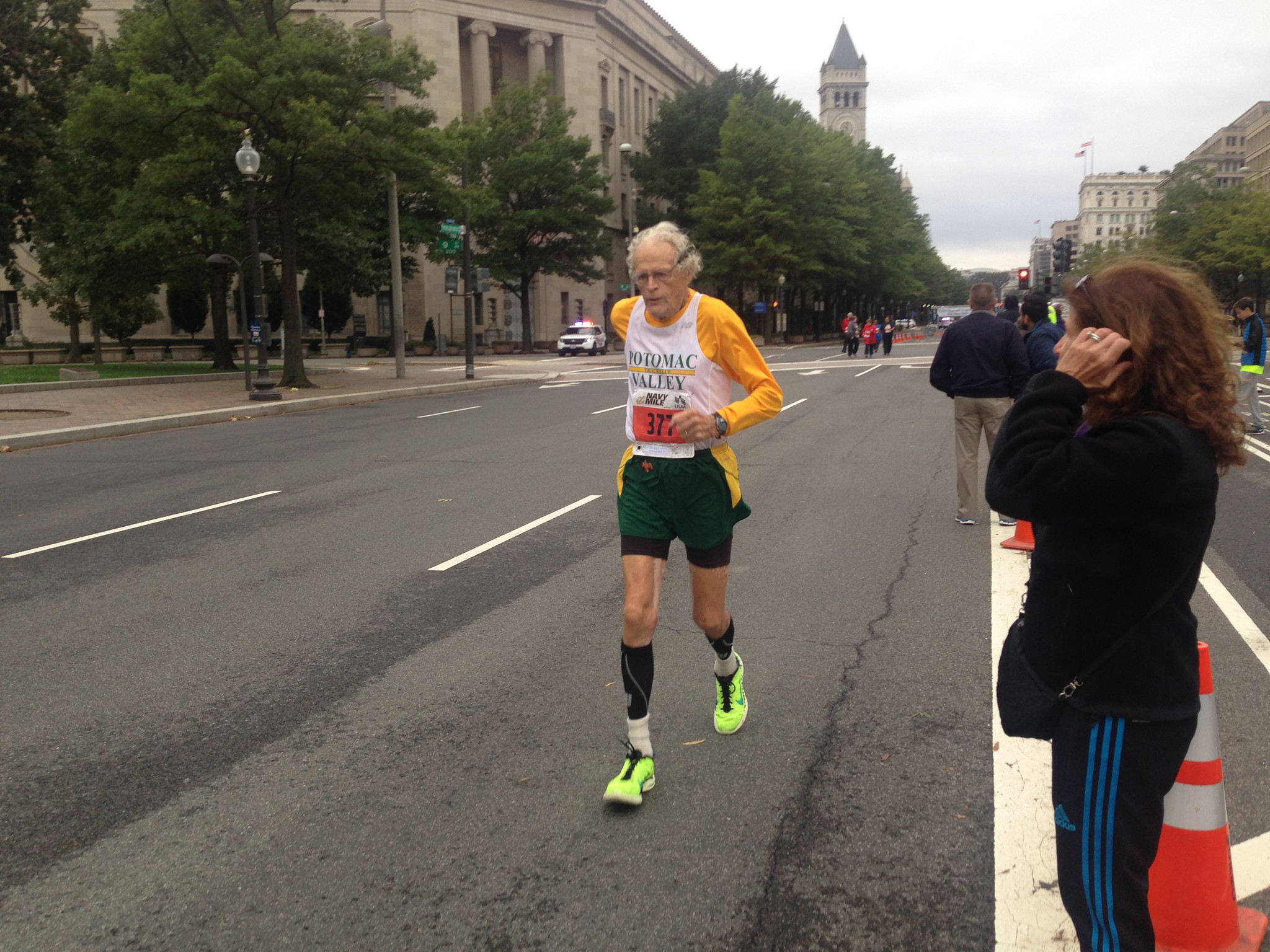 In addition to the Elite heats, you have heats focused on the Navy Community, such as the one for Sea Cadets. Walk us through those.
That's been the big one, yes. We have a fun walk, which is the first heat and that usually has a good amount of participants. The Sea Cadet / Military Youth one in particular is pretty massive. We also have competitors like Dixon Hemphill (right, photo by Kelyn Soong/The Washington Post), a U.S. Navy veteran and local runner turning 94. Hopefully, he's gonna register this year; he's a Navy vet and he's been out every year with us. It's great that we get the spectrum of participants, including Wounded Warriors and the elites in a Mile event.
Tell us a little more about who the event benefits, including The Naval Sea Cadets Corps, the Safe Harbor Foundation and the U.S. Navy Memorial.
The Council itself supports six units of Sea Cadets that are throughout the district area; about a hundred kids that we support. We also wanted to align ourselves with a Wounded Warrior group and the Navy Safe Harbor Foundation takes care of both the Navy and the Coast Guard. Those they support may have been wounded in action, but they may also have other medical issues that they've encountered while on active duty or other service.
We also work closely with the Navy Memorial, which is where the event finishes, and some of the event proceeds benefit it.
One of the tag lines that caught my eye on your website is: "It's more than a Mile, it's a tribute". With this in mind The Navy Mile is introducing dedicated heats named after fallen soldiers this year. How did this come together?
We considered it last year, but it just was a little too early. One of the naval officers we are dedicating a heat after is Commander William C. McCool who I knew a little bit. He was a distance runner at the Naval Academy and eventually became a NASA astronaut, tragically passing away in the Space Shuttle Columbia mission in 2003. We then thought about others who were runners and talented individuals.
Special Warfare Operator Chief Charles Humphrey Keating, IV (below far right) came to mind after his death in 2016, so we started the effort to reach out to his family. He spent two years as a Miler on the Indiana University team before joining in the Navy in 2008. We'll be memorializing him by dedicating the elite heats in his honor.
It was also suggested to us that we reach out to Special Warfare Operator Petty Officer First Class Patrick D. Feeks' family. He was heavily involved with the Sea Cadets and was killed in action when his helicopter was shot down in Afghanistan in 2012.

We felt it was the right time to do this, and to your point, our event is more than a Mile. It's saying hey we're gonna have a lot of kids out there that will go forth, do great things in the future on the athletic field and for their country. We want to acknowledge that and continue to grow this program.
Entering your fourth year, what are some of your main challenges in organizing a Mile event in Washington DC and to keep it fresh?
We're primarily a volunteer organization and even Beth Klein, our Executive Director, has a million irons in the fire. Doing an event in downtown DC also presents its own challenges. And a lot happens in the last few weeks, keeping us on our toes, such as last minute registrations since we're a shorter event. Nonetheless, we've got a good relationship with our race organizers and we're understanding the flow better.
Our next steps are just really to add onto what we have. It's not just a fun run, but we have things going on to make it a STEM event for kids with virtual reality experiences courtesy of a sponsor. It'll be a good day of physical exercise, but also a good day of camaraderie and good day of learning. And at the end of the day we'll make sure our volunteers are fed and have a great experience.
We can't thank our event sponsors enough such as USAA, who have done such a great job working side-by-side with us. It's enabling us to continue to grow The Navy Mile.
Are you bringing back the push-up contest?
We're bringing back the push-up contest! And we'll have several hundred kids doing a warm-up before their heat in the plaza with a big crowd rousing experience.
I'm still trying to wrap my head around 120 push-ups on the men's side and 98 on the women's side in 2-minutes. Wow!
I know!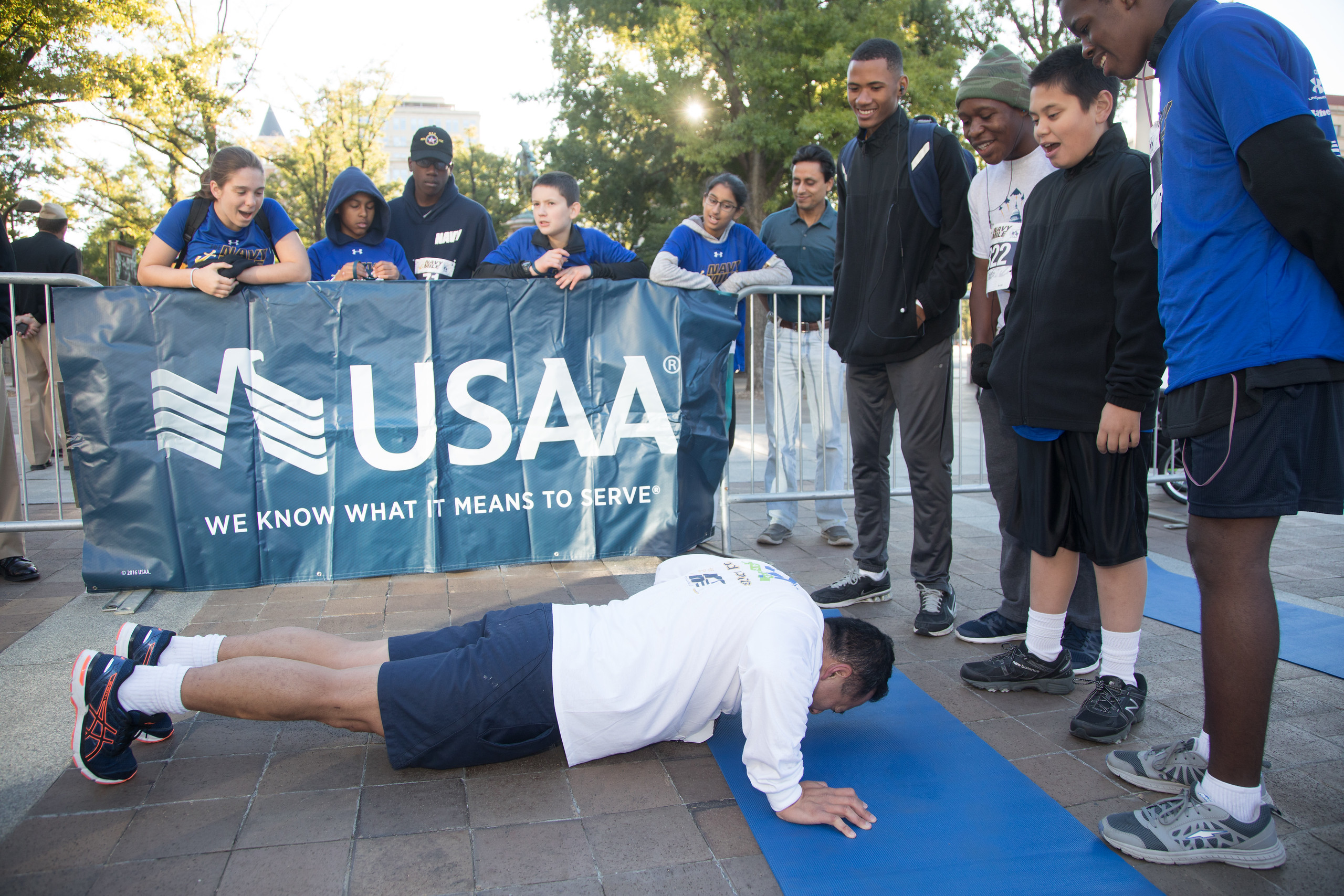 Thank you for your time, Charlie, and good luck on Sunday!
Thank you.