Louie Zamperini's Children: He Was Always an Athlete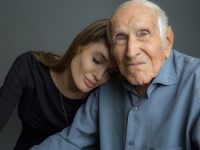 December 10, 2014
On eve of 'Unbroken' release, they reflect on their father's running, his thoughts on the movie and his dedication to sport.
By Christine Fennessy, Runner's World
Louie Zamperini's life hits big screens everywhere on Christmas Day. The movie, Unbroken, is based on Laura Hillenbrand's best-selling book of the same name that took a deep dive into Zamperini's epic life, from delinquent kid to to high school Mile record holder to Olympic runner to soldier to prisoner of war to icon of forgiveness and grace.
I had the honor and pleasure of interviewing Zamperini in 2010, and I was at his window (or was it his porch?) when he pointed down the hill to one of the many half-hidden roofs below his bungalow in the Hollywood Hills. "See that house down there?" he said. "That's where Brad Pitt and Angelina Jolie live." Turns out, they hadn't met yet.
On December 3, I watched a screening of Unbroken (directed, of course, by Jolie) in New York City. Like the book, the movie is haunting. It is not easy to watch. Zamperini was built tough—and not because he survived a plane crash, 47 days at sea, and more than two years of torture. But because he was able to put all that awful stuff in a quiet place and move forward into a life of peace and joy.
I had the opportunity a couple days after the screening to meet his children, Cynthia Garris, 65, and Luke Zamperini, 61. We talked about their dad's running days, the movie, and the character traits that made this big-hearted man—who passed away in July at age 97—a legend.
Continue reading at: runnersworld.com