Life on the run is rewarding job for Garrett Heath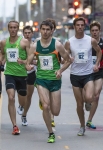 May 14, 2015
The Winona native has remained physically and financially healthy as a professional runner.
By Master Tesfatsion, Star Tribune
Garrett Heath's life is anchored on insecurity. For the past five years, the Winona native has made a living as a professional runner, traveling across the country and throughout Europe chasing his next check, or his last.
"It's not the most stable profession to be in, on top of not making a lot of money, but I can't complain too much," Heath said.
That journey continues Thursday when Heath, 29, returns home as one of the favorites in the Twin Cities 1 Mile road championships. He'll be looking for a nice payday in the popular event, which features 25 professional runners, 13 in the men's race and 12 in the women's. Winners earn $5000 each, and there's an additional $10,000 if a runner sets an event record.
Heath ran the second-fastest time in the event's history in 2013 at 3 minutes, 57.1 seconds. He finished second, however, to record holder Nick Willis, a silver medalist in the 2008 Olympics for New Zealand, who ran the Mile in 3:56.1.
"I just felt very fit and confident at that point," Heath said. "I thought I had a shot to go for the win. Hopefully [I'll] come into it this year more ready to go."
Last year's race was canceled because of inclement weather.
Heath was a standout at Winona High School, winning eight state titles in track, cross country and Nordic skiing. He was a nine-time All-America runner at Stanford, leaving as one of most decorated runners in school history, before hitting the professional circuit.
Most runners rely on sponsors or endorsement deals from athletic running companies to provide a consistent flow of income. Heath has been signed with Brooks Running since the start of 2014.
He has also avoided any major injuries, which has kept him on the track for both indoor and outdoor competitions in the United States during the winter and spring before traveling overseas in July for the European track season.
But he knows that could all change in an instant, both physically and financially. The endorsement deals range from one to four years without any guarantee from one year to the next.
"You kind of end up racing a lot to keep that contract," Heath said. "You don't want that to be your motivation for trying to run fast, but in the back of your mind you know that if you're not running fast, that you could be cut. Then you'll have to find a job or re-evaluate how long you're going to keep running."
Continue reading at: startribune.com