Liberty Mile looks to heat up in fourth year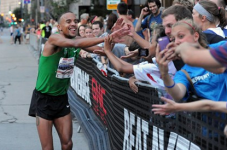 July 30, 2015
"America really has almost a duty to keep the Mile alive... It's our event as Americans, and I think it's really up to us to keep it alive and to keep it in the spotlight." - Jordan McNamara
By Megan Ryan, Pittsburgh Post-Gazette
Usually when someone thinks of something "hot" and "sexy," it doesn't involve 5,280 feet of steamy asphalt.
Yet, for the past three years, Pittsburgh Three Rivers Marathon, Inc., has strived to make an All-American distance just that.
The GNC Live Well Liberty Mile will take over downtown's Liberty and Penn avenues between 11th Street and Fifth Avenue starting at 7:00pm Friday, where elite runners will finish up within about four minutes what common folk labored through in grade school gym class.
In its fourth year, the $25,000 purse Liberty Mile is part of a four-event Bring Back the Mile Tour and will sport a record of nearly 1500 racers in one of the most competitive U.S. fields outside the Olympic Trials. Since the race isn't run at major international competitions like the Olympics, it tends to fade to the background in favor of the fairly comparable 1500-meter run. But American cities have been investing in reviving the race for competitive purposes — and other fun reasons, as well.
"The Mile does have some buzz because it's this hot, sexy distance that is true athleticism," race CEO Patrice Matamoros said. "It's an important distance in the U.S. Everything we do is measured in Miles here still."
Continue reading at: post-gazette.com