Leslie, Rowbury Smash Records at Camel City Mile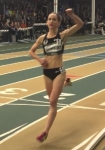 January 31, 2015
Bring Back the Mile Grand Prix Tour 2015 opens with a bang, bang at first stop; five men also go sub-4
By David Monico, Bring Back the Mile
WINSTON-SALEM, N.C. – With the lights turned low, the music loud, an energetic crowd and ready-to-race athletes, the 3rd Camel City Elite Miles at the JDL Fast Track produced incredible performances as 2013 event champion Cory Leslie and two-time Olympian Shannon Rowbury set North Carolina state records, clocking 3:56.99 and 4:22.66 respectively.
The Women's Mellow Mile presented by Mellow Mushroom Winston-Salem was the first Mile of the afternoon with a national class field led by NIKE Oregon Project's Rowbury, adidas B.A.A. Elite's Morgan Uceny and ASICS / Team USA Minnesota's Heather Kampf headlining. Melissa Salerno of the Furman Elite Track Club took on pacing duties for the race coming through the 400 meters in 68 seconds with Rowbury following closely behind and prep star Ryen Frazier some steps behind leading the second pack.
With Salerno stepping off track at 800 meters, Rowbury took control of the lead beginning to increase it with every step. Stephanie Garcia of New Balance / Furman Elite Track Club and Uceny now led the second pack with Frazier falling back to seventh position. By three quarters Rowbury had all but built an insurmountable lead on the rest of the field, extending it to over 50 meters with a lap to go. She would race home, fists pumping in the air in an astonishing 4:22.66 with the crowd on its feet, cheering wildly.
Rowbury's mark was the fastest indoor Mile by a woman since 2000 and the fastest Mile this year to-date and also made the Duke grad the 5th fastest woman indoors all-time and 3rd woman in the U.S. all-time under the roof, in addition to setting facility and North Carolina state Mile records.
"I knew going in I could run fast, but did not imagine that fast so I was pretty pumped to see 4:22," said Rowbury, 30, who would pick up $5000 for the win with Uceny runner-up, over eight seconds back and Kampf rounding out the top three, while Frazier would set a personal record 4:41.56 in sixth place, improving her U.S. #1 indoor Mile and North Carolina state high school record.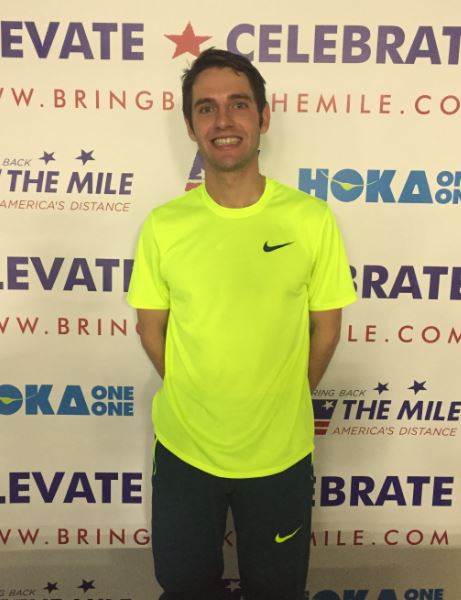 The Men's Camel City Mile presented by Salem Sports certainly had a lot to live up to after Rowbury's thrilling record run and they would not disappoint. Donnie Cowart of Crazy Running set the pace for the field, coming through a quarter Mile in just over 58 seconds with Leslie right on his heels and the rest of the pack 20 meters back led by HOKA ONE ONE's Leo Manzano and Brooks Running's Matthew Elliott. Cowart would continue to push Leslie through 800 meters, building almost a 40 meter lead on the chase pack.
Now all alone out front, Leslie, 25, turned into a Tour de France-esque leader being hunted down by the peloton with two laps to go. Elliott, Manzano and Will Leer would form the core chase pack dwindling Leslie's lead to less than 15 meters with 100 meters to go. In the end Leslie (above) would hold the pack off, improve his facility record to 3:56.99 and set a new North Carolina Mile record. Leer, Elliott and Manzano would finish within .25 seconds of each other in second through fourth places. In all, five men would break 4 minutes, with Brooks Beast's Riley Masters racing to a 3:58.71.
Post-race a happy Leslie said: "Aside from the record, any time you get a chance to compete against this caliber of field and come away with a victory it's special. It's a great indicator of current fitness and leaves me excited for the rest of the season."
The Camel City Mile was the first stop on the Bring Back the Mile Grand Prix Tour 2015 featuring four top U.S. Mile events and showcasing Mile athletes.
3rd Camel City Mile
Bring Back the Mile Grand Prix Tour 2015
Winston-Salem, NC, Saturday, January 31, 2015
MEN presented by Salem Sports
1) Cory Leslie (SC), 3:56.99*, $5000#
2) Will Leer (CA), 3:57.54, $2000
3) Matthew Elliott (SC), 3:57.76, $1000
4) Leo Manzano (TX), 3:57.79, $500
5) Riley Masters (WA), 3:58.71
6) Patrick Joseph (VA), 4:00.47
7) Kyle Graves (VA), 4:02.71
8) Neil Gourley (VA), 4:04.06
9) Graham Crawford (NC), 4:04.48
10) Tripp Hurt (SC), 4:13.38
11) Juan Campos (VA), 4:18.30
Donnie Cowart (NC), DNF (rabbit)
*Facility, event and North Carolina state records (previous facility, event and indoor state records, 3:57.81, Cory Leslie (USA / OH), 2013, and previous overall state record, 3:57.3, Ken Popejoy (USA / MI), Durham, NC, 05/12/74)
#includes $1000 facility record bonus
WOMEN presented by Mellow Mushroom Winston-Salem
1) Shannon Rowbury (OR), 4:22.66*, $5000#
2) Morgan Uceny (MA), 4:30.90, $2000
3) Heather Kampf (MN), 4:31.24, $1000
4) Stephanie Garcia (SC), 4:33.23, $500
5) Heidi See (AUS), 4:34.69
6) Ryen Frazier (NC), 4:41.56
7) Ellie Staker (FL), 4:44.37
8) Carly Hamilton (GA), 4:49.27
9) Shannon Morton (VA), 4:50.34
10) Karley Rempel (NC), 4:51.39
11) Elizabeth Whelan (NC), 4:54.03
12) Sarah Paddon (NC), 4:55.84
13) Megan Wright (OH), 4:55.88
Melissa Salerno (SC), DNF (rabbit)
*Facility, event and North Carolina state records (previous facility, event and indoor state records, 4:35.07, Sara Vaughn (USA / OR), 02/01/14, and previous overall state record, 4:34.05, Heidi Gregson (AUS), Raleigh, NC, 08/01/14)
#includes $1000 facility record bonus
Complete Camel City Elite results at: www.timinginc.com