Leo Manzano Talks Training, Racing, HOKA and the Mile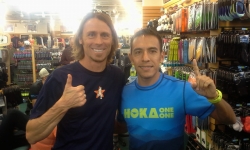 November 01, 2014
"I would love for everyone to have that experience to enjoy running and see what the sport is all about."
By Todd Straka for Bring Back the Mile
Runners of all ages and talents towered around the 5' 5" Olympic silver medalist hoping to have a few words or snap a selfie for their social feed. And while his accomplishments are huge, Leo Manzano was approachable and gracious at the HOKA ONE ONE Fun Run and meet & greet held at the Boulder Running Company last month. HOKA ONE ONE, based out of California's Bay Area, hosted its first runner's summit here in Boulder and also held the social event at the Boulder Running Company that was instrumental in the brand gaining a footprint in the retail market.
Even as a Miler, his accomplishments are revered even among the ultra runners who run up to 100 Mile races. His success continues as he recently set a 1500 meter personal record (PR) last July in Monaco, clocking 3:30.98, and the University of Texas grad also owns a PR of 3:50.64 in the Mile from 2010.
His presence on the HOKA team as well as a few other Milers and 800m runners weighs even more as it means a broader direction for the brand who has firmly anchored itself in the ultra running scene after starting with Boulder's Dave Mackey and Karl Meltzer in their early years. The team has grown over the years impressively to include world class triathletes, marathoners and trail and ultra runners.
His love for the shoe and the brand, like so many other runners, was tentative at first.
"From a visual standpoint, I wasn't too sure, then I started wearing them, started walking in them and giving them a test drive, without knowing too much about the shoes, I just went out for a run and was very surprised that it actually felt like a normal shoe even though they are a little more oversized than what you are normally accustomed to," said Manzano, who recently turned 30.
"There is one shoe in particular, the Stinson and Stinson trail, at the time I was having issues with my plantar fasciitis and talus navicular and as soon as I started wearing them my feet started feeling better. My plantar pain went away, and still to this day pain free," he added.
"The Stinson trail is one of the ones I keep coming back to. As a runner I highly recommend it because it's not just for elite runners, but for all runners. I would love for everyone to have that experience to enjoy running and see what the sport is all about."
After Leo finished his season in mid-September at the Continental Cup in Morocco, he took two weeks off and then went back to building his base fitness. Through November and December he will get closer to 70-80 miles a week that is around his peak volume in the racing season. Since he won't be racing again until February 2015 where he has about 2 or 3 races planned for the indoor season, he spends this build phase working on drills making sure he has a good foot strike, and keeping the body strong and flexible making sure he is injury free come race time. Manzano demonstrates these essential pre-race and pre-workout drills on the Flotrack PRO video series HERE.
Manzano will also incorporate some hill training as part of his building phase and occasionally will bring in hills during the racing, but keeps the volume very minimal.
What keeps him motivated during the off-season?
"We are all competitors, knowing that when I come back to race and step on the track that I want to be ready to go, I want to be ready to have a great race, and compete. I know at the same time, there are many guys that also want to be the best, year in and year out, they are training hard and those are the guys keeping me motivated, when these guys come out, it's go time."
Manzano, a two-time Olympian, is well known for his deadly final kick. "It's something I always work on, you need to train to have one, but I have been blessed to be able to call on in it in the tactical races."
In 2014, HOKA ONE ONE became a sponsor of Bring Back the Mile, a campaign to promote and celebrate the storied distance, and that's also an important milestone, no pun intended, for the brand and its reach beyond the ultra and trail worlds.
"I think HOKA ONE ONE is an incredible brand because they include everybody on the basis of being a runner. The thing is, everyone can run a Mile; the Mile is one of our base events, with its history and all. Unfortunately when you talk about the 1500 meters, people really don't know unless they keep up with track & field, but people know about the greats, guys like Jim Ryun who was one of the best Milers of all-time," the 2014 USA 1500m and Road Mile champion commented in closing.