Kyle Merber reflects on the Distance Medley Relay World Record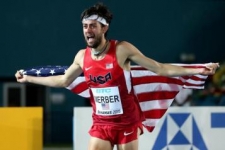 May 07, 2015
"You are patriots! Trying to serve your country in a way that a lot of people won't understand until they finally see the U-S-A on your chest! Then…they will get it."
By Kyle Merber
It was one of the first days of practice in October, and we were huddled inside the shed at Rutgers University during a downpour at the track trying to get warm before our workout. This was the type of day when we needed a speech—something to get us excited and serve as a reminder as to why we are doing this. Nohilly has been known to provide some timely bone-chilling words on occasion. His voice vibrates with sincerity, and the motivation is seeping into us. My goal is simple: represent this country whenever I can, as best as I can. And that is earned on practices like today.
Since the indoor season I have been healthy and clicking off the usual 3.5 workouts a week and following it up with consistently long long-runs. I opened up at the Larry Ellis Invitational at Princeton two weeks ago with a personal record 800 of 1:47.2 and Gags was fired up about it. For where I was at in training, this was an exciting sign for the future. And when Coach Lananna called up the next day and asked what I thought of running a 1200, I spoke confidently about my abilities. But I think Gags had already convinced him.
Before I knew it, there was a suitcase filled with USA gear in my living room and I was celebrating like Christmas morning in April. And just a few days later I was flying to the Bahamas for a chance to compete on the biggest stage of my career. At this point, it is no secret that I am a pretty big track fan. My eyes light up in awe when Sanya Richards-Ross walks into the room. I have flashbacks to my 13-year old self, freaking out in front of the TV as Jeremy Wariner sprints home to gold in Athens. Now we are wearing the same uniform, except they are the ones getting stopped in the hotel to take pictures with fans.
Continue reading at: kylemerber.wordpress.com