Kisorio Kicks to Win Inaugural Solvang Mile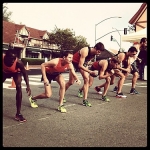 October 06, 2012
Debut event draws Mile Maniacs to Danish-centric California community
By David Monico, The Mile wire
SOLVANG, Calif. – (October 6, 2012) – Perfect race temperatures and a warm Danish community greeted the elite Men's Mile field toeing the line at The Solvang Mile on Saturday morning. At the inaugural road race, Silas Kisorio, 28, of Oklahoma City, OK used a late surge in the last 200 meters to take the win in 4 minutes, 11.65 seconds and pocket the $1000 champion's prize.
The recent Oklahoma Christian graduate, where he compiled 13 NAIA national titles, out sprinted local Santa Barbara Miler Tommy Schmitz as well as adidas / Team USA Arizona member Ben Bruce who moved down from his traditional 3000m Steeplechase race.
"I was expecting AJ Acosta to come up on me as I had not realized he slowed down due to injury, so it played out that my kick was enough in the final stretch," stated Silas.
Bruce led the field through the half mile mark covering the first quarter in 63 and the half in 2:05. Schmitz then took over and attempted to pull away on the windy, tight turns, but Kisorio, who is originally from Kenya and is currently pursuing his MBA, had other plans and used his superior closing kick for the title. Schmitz held on for second place, while Bruce crossed the line in third.
"It was a great first year event that brought in some incredible athletes to downtown Solvang," commented event director Alex Kehaya of North American Athletics. "Thank you to all of our Sponsors and especially Dunn School here in Los Olivos that provided all the volunteers; we couldn't have done it without them. We are looking forward to next year's Solvang Mile, a community event for kids and runners of all ages."
Bring Back the Mile attended the inaugural event.
Inaugural Solvang Mile

Solvang, CA, Saturday, October 6, 2012
MEN

1) Silas Kisorio (KEN / OK), 4:11.65, $1000

2) Tommy Schmitz (CA), 4:13.42, $800

3) Ben Bruce (AZ), 4:16.30, $600

4) Peter van der Westhuizen (South Africa), 4:17.85, $200

5) Sean Brosnan (CA), 4:18.38
6) AJ Acosta (OR), 4:53.58
Complete results at: http://northamericanathletics.com/2012/10/solvang-mile-results/