Kerr, Reekie Secure Scottish Sweep at New Balance 5th Avenue Mile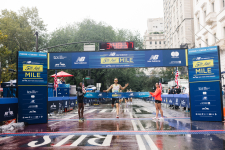 September 10, 2023
World champion records the third fastest men's time in event history and fastest since 1995; eighteen men sub-4 and thirteen women sub-4:30 under wet conditions
From NYRR
NEW YORK – World champion and Olympic medalist Josh Kerr and Olympian Jemma Reekie won the men's and women's professional athlete races at the New Balance 5th Avenue Mile on Sunday, making it the third consecutive year it was a Scottish sweep. It was the first title on Manhattan's famous thoroughfare for Kerr, and the second for Reekie, who also won in 2021.
Under wet conditions, Kerr, 25, fresh off winning a World title in the 1500 meters last month in Budapest, won in 3:47.9, the third fastest time in event history and fastest since 1995. Great Britain's George Mills was second in 3:49.9, followed by New Zealand's Geordie Beamish in third in 3:50.0. Vincent Ciattei was the top American, finishing fourth overall in 3:50.3.
"It's a very different effort to run a Mile down the street in flats versus running around the oval with spikes," Kerr said. "I didn't have the performance I wanted to have last year, so I wanted to make that right. It's nice to end the season on a high, and it's difficult to do at any point in anyone's career at the end of the year. I've been training and racing for a long time this year and I was glad to put on a performance like that today."
Reekie, 25, took the tape in 4:19.4, more than two seconds faster than her winning time in 2021, and was followed by Ireland's Sarah Healy in 4:20.0 and Great Britain's Melissa Courtney-Bryant in 4:20.6. Nikki Hiltz was the top American, finishing fourth in 4:20.7.
"Running this Mile is always so special to me," Reekie said. "I won it back in 2021. Last year, I placed well again, and then this year I'm happy to be back winning. It's such a great event and it's always a fun event to come to."
The $32,000 pro prize purse went 7-deep per gender with $5000 to each race champion.
Overall, 18 men went sub-4 and 13 women ran sub-4:30.
The New Balance 5th Avenue Mile – the world's most iconic road Mile race since 1981 – stretches 20 blocks down Manhattan's most famous thoroughfare.
More than 8,500 runners raced the 42nd event, the world's largest road Mile, on Sunday. In addition to professional athlete and age-group heats, this year's New Balance 5th Avenue Mile featured Back to School Mile heats for youth, a New Balance Run Your Way Mile for first-time marathoners using NYRR Coaching Lab, and a George Sheehan Memorial Mile for seniors. Due to inclement weather, the NYPD & FDNY Mile, NYRR Road Mile Championships and the Rising New York Road Runners Stage 1 races were cancelled.
Complete results HERE.