Katelyn Tuohy wins national Mile crown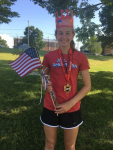 June 20, 2017
North Rockland teen breaks Mary Cain's New York state freshman record: "Knowing I can hit her times gives me motivation."
By Nancy Haggerty, Lohud
She had already broken two of Mary Cain's freshman records and had come very close to breaking others.
On Sunday, North Rockland's Katelyn Tuohy broke a third state freshman mark held by the former Bronxville star-turned-international competitor.
Tuohy ran 4:45.95 to win the New Balance Nationals Outdoor Track & Field girls championship Mile in Greensboro, North Carolina.
Her time gave her her ninth state record since she began running for North Rockland as a seventh-grader.
Cain's mark, set when she won New Balance Nationals in 2011, was 4:46.91.
Continue reading at: www.lohud.com