Kampf, McNamara Win GNC Live Well Liberty Mile Titles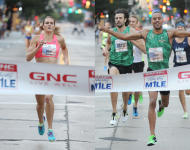 July 31, 2015
An event record 1,500-plus participants at fourth edition; third stop on the Bring Back the Mile Grand Prix Tour 2015
By Ryan Lamppa, The Mile wire
PITTSBURGH – (July 31, 2015) – At the 4th GNC Live Well Liberty Mile on a warm, humid Friday evening in downtown Pittsburgh, two Milers, who are common faces in the Steel City and to this event, Heather Kampf and Jordan McNamara won their American Development Pro races in 4:33 and 3:59, respectively. Kampf, 28, won her third Liberty Mile crown (also 2012-13), while McNamara, 28, defended his title and also tied the event record set by Craig Miller in 2012.
The women's race opened with a 68 second first quarter mile, but then the large pack slowed to 2:20 at the halfway mark. At the turn onto Liberty Avenue, Emily Lipari led the field with the two favorites Kampf and defending champion and Team USA Minnesota teammate Gabriele Grunewald following closely behind. In the final 600 meters, Kampf moved past rising Mile star Rachel Schneider and powered her way to the tape in 4:33, tying the #2 fastest event time. Grunewald followed in 4:35 as runner-up and Schneider was third, clocking 4:36.
"I came into the race with a plan that I visualized and executed, but I never felt safe until the end," said the Queen of the Road Mile Kampf. "Pittsburgh is my second home, and I love racing here."
Like the women, the men's race ran as a tight pack on the extended U-shaped course. Recent Oregon grad Daniel Winn led the field at the half-mile mark in 2 minutes with McNamara, Mac Fleet, Jack Bolas, Jeff See and Colby Alexander in striking position. The final homestretch was still a dense group before McNamara turned on the jets in the final 50 meters for his second straight win, breaking the tape in 3:59. McNamara's Oregon Track Club Elite teammate Fleet was the runner-up, also at 3:59, followed in succession by Bolas, See and Alexander all in 4:00.
"I've had an up-and-down year and I wanted to put on a great show tonight, and I knew with 400 meters left that I would win because I had several gears left," said McNamara who, like Kampf, is also four-time Liberty Mile participant with a strong Pittsburgh fan base. "I also ran for my 90-year-old grandmother who recently had a stroke, and she is getting better, so this win means a lot to me personally too."
Kampf and McNamara also earned $4000 each as the GNC Live Well Liberty Mile champions.
The Masters champions, 40 & older, were Charles Novak, 47, Cuyahoga Falls, OH and Kelly Annapolen, 43, Pittsburgh in 4:42 and 6:09, respectively; each took home $500. Two-time DICK'S Sporting Goods Pittsburgh Marathon champion Clara Santucci won the women's Unstoppable heat, clocking 4:57.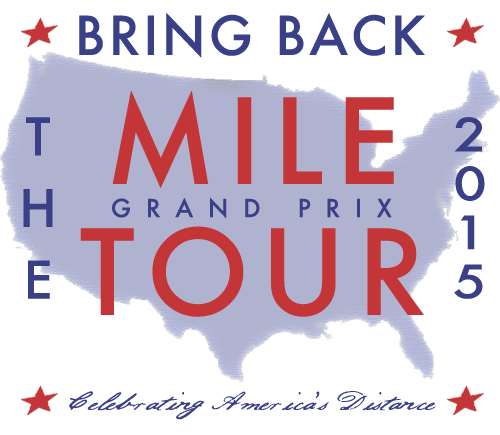 The fourth edition with more than 1,500 participants, an event record, featured a $25,000 overall prize purse, the third largest Mile prize purse in the U.S.
The event was also the third stop on the Bring Back the Mile Grand Prix Tour 2015. With the win, Heather Kampf also defended her Grand Prix title with 26 points, while for the men, Jeff See moved into the top spot with 12 points, followed by Corey Leslie, Garrett Heath and Jordan McNamara (10 points). The next Tour stop, the finale, is the Minnesota Mile on Sunday, September 13 in Duluth, MN. The total prize purse for the four Tour events exceeds $80,000 plus $7500 for the Grand Prix purse. Per Tour event, per gender, top 6 will score points (10, 8, 6, 4, 2 and 1) with the top 4 Grand Prix scorers earning GP money ($2000, $1000, $500 and $250).
4th GNC Live Well Liberty Mile
Bring Back the Mile Grand Prix Tour 2015: Third Stop
Pittsburgh, PA, Friday, July 31, 2015
MEN
1) Jordan McNamara (OR), 3:59*, $4000
2) Mac Fleet (OR), 3:59, $2500
3) Jack Bolas (NJ), 4:00, $1500
4) Jeff See (SC), 4:00, $800
5) Colby Alexander (OR), 4:00, $500
6) Lex Williams (MI), 4:02, $325
7) Jake Hurysz (CO), 4:02, $150
8) Brandon Hudgins (NC), 4:03, $100
9) Daniel Winn (OR), 4:03, $75
10) Jake Edwards (OH), 4:04, $50
*tied event record (3:59, Craig Miller (WI), 2012)
WOMEN
1) Heather Kampf (MN), 4:33, $4000
2) Gabriele Grunewald (MN), 4:35, $2500
3) Rachel Schneider (DC), 4:36, $1500
4) Emily Lipari (MA), 4:37, $800
5) Ashley Higginson (NJ), 4:39, $500
6) Amanda Eccleston (MI), 4:40, $325
7) Elaina Balouris (MA), 4:42, $150
8) Bridget Franek (OR), 4:44, $100
9) Lea Wallace (CA), 4:47, $75
10) Christy Cazzola (WI), 4:48, $50
MASTERS (40 & older)
MEN
1) Charles Novak, 47, (OH), 4:42, $500
WOMEN
1) Kelly Annapolen, 43, (PA), 6:09, $500
For complete results and more, go to: LibertyMile.org