Kampf Four-Peats, Edwards Wins Ryan Shay Mile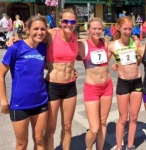 July 25, 2015
Three men sub-4 and five women sub-4:30 at 8th edition
From Matt Peterson
CHARLEVOIX, Mich. – The 8th Ryan Shay Mile took place Saturday morning in Charlevoix under partly cloudy skies and 70 degree temperatures. This invitational road Mile had separate races for men and women with $4000 in prize money ($1000, $500 and $250) from event sponsor Bergmann Marine. Heather Kampf won her fourth consecutive title, clocking 4:26.83, while Jake Edwards, in his event debut, took the men's title in a personal best of 3:56.62.
Kampf, 28, led four other women under 4:30. Brook Handler finished a strong second in 4:27.75 while Amanda Eccleston just edged Amanda Mergaert, 4:28.70 vs. 4:28.71. Kampf also picked up the half mile leader $250 bonus, and the Team USA Minnesota athlete continues to impress the spectators in Northern Michigan as one of the top road Milers in the world.
For the men, the Ryan Shay Mile continues to be a race to achieve the coveted sub-4 minute mark as the top three set personal bests. Edwards' winning time of 3:56.62 was followed by Lex Williams in 3:57.30, and last year's fourth place finisher, Thomas Scott, moved up to third, clocking 3:59.81. While the pace at the half mile was right at 4:00, the leaders were able to press the last half to ensure for the sixth consecutive year that the race went under four minutes.
The Ryan Shay Mile started in the summer of 2008 to honor the memory of Ryan Shay, who passed away on November 3, 2007 while competing in the 2008 U.S. Olympic Marathon Trials in New York City. Ryan was from Central Lake, Mich., about thirty minutes south of Charlevoix. A talented runner, who through hard work and persistence, won championships in high school, while in college in Notre Dame, and as a professional. Ryan continues to be role model for many young people in Northern Michigan and around the country.
This event is held as part of Charlevoix's annual Venetian Festival, and in conjunction with the Drenth Memorial 5K / 10K road races on the same Saturday morning. Charlevoix is located in the upper northwestern portion of the lower Michigan peninsula.
8th Ryan Shay Mile
Charlevoix, MI, Saturday, July, 25, 2015
MEN
1) Jake Edwards (OH), 3:56.62, $1000
2) Lex Williams (MI), 3:57.30, $500
3) Thomas Scott (MI), 3:59.81, $250
4) Josef Tessema (VA), 4:01.74
5) Zach Perkins (CO), 4:02.58
WOMEN
1) Heather Kampf (MN), 4:26.83, $1250#
2) Brook Handler (MI), 4:27.75, $500
3) Amanda Eccleston (MI), 4:28.70, $250
4) Amanda Mergaert (WA), 4:28.71
5) Christy Cazzola (WI), 4:29.14
#includes $250 halfway prem bonus
For complete results, go to: www.venetianraces.com