Jim Ryun's Favorite Mile Races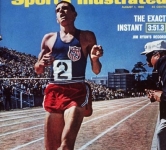 October 06, 2014
"And it was an answer to a prayer in that it was the easiest race of my life."
By Mike Rosenbaum, About.com Track & Field Expert
Jim Ryun made headlines in 1964 when he became the first high school runner to finish a Mile in less than four minutes. He went on to break the Mile world record twice, running 3:51.3 in 1966 and 3:51.1 in 1967. He also set outdoor world marks at 880 yards and 1500 meters, and broke the indoor Mile world record in 1971. Ryun spoke about his running highlights with About.com in September 2014.
You set world records in the 1500 and other distances, but you're probably best known for setting world records in the Mile. Are you particularly proud of that association, from an historical perspective?
"I am. I think it's a wonderful experience. I thank God for the fact that he gave me the talent. Because quite honestly, before I started running – let me backtrack a bit – June 5th (2014) was the 50th anniversary of my first high school 4 minute Mile. And, on the front page of the San Diego paper, they almost got it all in quotes, but part of it was on the front, it said, 'Thank God for failures.' Because if I hadn't failed making the church baseball team, the junior high basketball team, the junior high track and field team, I would never have become a Miler, because it wasn't my first choice. But once I started racing a Mile, I liked the distance. It was three laps and then you have the strategy of sprinting at the right moment. And so, through the years, it's been a very favorable event toward which I gravitated, but a lot of other people could easily recognize."
Continue reading at: http://trackandfield.about.com