Jim Ryun Returns to Site of Record Run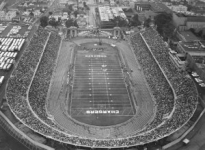 February 13, 2013
"But that night all the strategies we had planned went away and it became more of an instinctive thing to make the move when I did, even though I didn't feel comfortable doing it."
By Toni Reavis
San Diego's Balboa Stadium looked much different in 1965 when it was home to the AFL San Diego Chargers than it does today as home to San Diego High School Cavers. Before Qualcomm Stadium was built in Mission Valley in 1967, or Petco Park was erected downtown in 2004, Balboa Stadium was the main athletic stadium for what was still a sleepy, laid back Navy and Marine based town.
In the summer of `65 Balboa Stadium hosted the AAU Track & Field Championships. The highlight of that meet was the Mile run, featuring the Olympic gold and silver medalists from Tokyo 1964, New Zealand's Peter Snell and Czechoslovakia's Josef Odložil. Also in the field was the newly minted American Mile record holder, Jim Grelle, a product of Bill Bowerman's University of Oregon program, and one other notable worth mentioning, a gangly high school senior out of Wichita East High School in Kansas, one Jim Ryun.
Last night an only slightly less gangly Jim Ryun stepped back into Balboa Stadium for the first time in 48 years to address members of the San Diego Track Club just before their weekly workout. After his remarks and the surge of autographs and photos had slowed, Jim stood and recalled the night in 1965 that still stands as the most legendary that any U.S. high school athlete in track ever created.
"In 1965 I had just turned 18, and the day before the meet there had been a press conference, and I was not invited because I was a high school kid — which didn't bother me. But my coach, J.D. Edmundson, went, and he came back and said, 'They asked Peter Snell what he thought about the kid from Wichita East. And he said, "Well, one day he may be a factor in a race, and I'm sure he'll have a great career". Well, J.D. was telling me that hoping it was going to fire me up. But I was already fired up. I didn't need that."
Ryun remembers an electric crowd of around 20,000 that night in a stadium which held 34,000. ABC's Wide World of Sports covered the meet live with Bill Fleming and Jim Beatty on the call.
"Generally in a national championship you'd run for places," explained Ryun. "In our case top three went overseas, so most of the time you find a tactical race. But it began to develop early on as a fast race. At 600 yards to the finish the Olympic silver medalist Josef Odložil from Czechoslovakia took off. He broke the race open. We ran sixty; two-minutes; right at three minutes (splits) and he carried it through three-quarters. Back then it was a center-of-the-track start and finish, and with little less than a quarter to go Odložil began to fall apart.
"A group of us came up on him at the first turn, and I had to make a big decision at that point. I was not feeling very good, because it was faster than I had ever run before. And I had to decide to go around him — which if I hadn't the race would have been entirely different. But I did go around so I didn't have to break my stride, and it was a good decision. I look back now and realize it was the deciding factor, because there was only a stride difference at the line between me, Peter Snell and Jim Grelle. All three of us were within a tenth of a second at the finish."
Continue reading at: tonireavis.com