Jim Ryun Hopes to Bring Back the Mile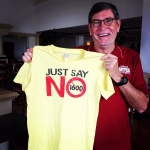 October 05, 2014
"I would say to the high school associations, we need to be more fan-friendly. People understand a Mile."
By Mike Rosenbaum, About.com Track & Field Expert
Jim Ryun is one of the greatest middle distance runners in United States history – an Olympic 1500 meter silver medalist and a former world record holder at several distances, including the Mile. In his post-running life Ryun has been a businessman, a six-term congressman and currently operates the Jim Ryun Running Camp. He also supports the Bring Back the Mile campaign, which aims, in part, to convince high school athletic associations to replace the 1600 meter run with the Mile. He spoke to About.com about his passion for the Mile run in September 2014.
What makes the Mile special to you and motivates you to want to bring back more Mile running?
"It's always been an event people can identify with. You drive your car so-many miles per hour. You walk so many miles, if you walk (long distances). We all relate to things in miles. So it's an easily related-to event that people through the years have identified with. (Most people remember that) the first man to run the Mile under 4 minutes was Dr. (Roger) Bannister. So there's that kind of magic that we can identify with. So when they went to 1600 meters, it lost a lot of people because they don't really identify with meters as much as they do miles. When you think of the Olympic distance, the 'metric Mile,' it's 1500 meters – that's not really a Mile, that's roughly 120 yards short of a Mile. So a Mile is something everybody can identify with and it still has a certain mystique to it that's easily capturable and people understand it. If you say someone is a sub-4-minute Miler, they understand that. If they say someone is a sub-4-minute 1600 meter runner, I think the response is going to be, 'What's that?'"
Continue reading at: http://trackandfield.about.com