Jenny Simpson adapts to emerging Mile stars worldwide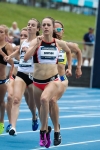 October 12, 2018
"I think history will look back on this and my accomplishments will be in the context of what I think is one of the most competitive eras of middle-distance running."
By Nick Zaccardi, NBCsports.com
When asked the state of the women's 1500 meters / Mile, one of the strongest events in track & field, American Jenny Simpson thought of her days as a steeplechaser in 2009.
Simpson, after her last NCAA season at Colorado, remembered what happened after she placed fifth in the 3000m steeple at the World Championships in Berlin, breaking her American record (gold medalist Marta Domínguez of Spain was later DQed for doping).
"I rushed home after the steeplechase at the World Championships to be at my college cross country camp, and I remember, we had three Americans that made the [1500m] final," Simpson said last month. "I'm at home in Boulder, Colorado, watching the 1500m final, and just to have three Americans make the final was unprecedented [for a Worlds or Olympics]. It was amazing."
Simpson won the next World title in the 1500m, metric Mile, two years later.
"Now, the depth of American distance running has grown and grown and grown," she said. "But what's happening in the United States seems to also be happening on the world stage. Every single year, it's like another really incredible talent is added to this pool, and nobody drops off."
At this time in the last Olympic cycle, Simpson was coming off a Diamond League season title, essentially crowning her the best 1500m runner of 2014. She clocked a personal record 3:57.22, moving one tenth shy of Mary Slaney's American record from 1983.
The following three years weren't so much about fast times as about global medals. Simpson missed out in 2015, finishing 11th with a bare foot at Worlds. She rebounded with the first U.S. Olympic women's 1500m medal — a bronze — in Rio and a silver at the 2017 Worlds
Continue reading at: olympics.nbcsports.com