Inspiring Latina of the Week: Runner Brenda Martinez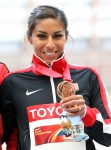 September 13, 2013
I just thought "I have to bleed for coach [Joe Vigil]. Just give it everything you have to the line, just don't give up."
By Connie Aitcheson, Latina
At the recent IAAF Track & Field World Championships in Moscow, Mexican-American Brenda Martinez became the first American woman to win a medal in the 800 meters at the global event. She ran a personal record of 1 minute, 57.91 seconds to win the bronze medal. Martinez, 26, is from Rancho Cucamongo, CA and was the only Latina on the national track and field team in Moscow.
Martinez started running at five years old and became the first person in her family to go to college when she attended UC-Riverside. There she was the 2009 NCAA Outdoor Championship 1500m runner-up and a three-time NCAA All-American.
For her athleticism and amazing accomplishment, Brenda is this week's Inspiring Latina!
How did you get into running?
Brenda Martinez: Actually my parents put me in a [track] club since I was five years old. It wasn't all that good where we grew up so they kind of wanted to keep me off, I would say, peer pressure and I guess all the bad stuff that you see. They put me in a club so that I could put all my focus in that and go to school.
Continue reading at: www.latina.com