Inaugural Solvang Mile Draws Top U.S. Men's Milers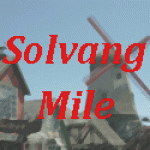 September 25, 2012
October 6 road race features age group heats leading to the Elite Men's Mile and the sub-4 minute Mile quest
SOLVANG, Calif. – (September 25, 2012) – On Saturday, October 6, the streets of Solvang, California are going to be packed with athletes of all ages and abilities chasing their fastest times at the inaugural Solvang Mile. Located on Copenhagen Street in beautiful downtown Solvang, the start and finish line will be filled with personal bests and tons of cheers. The morning will begin with age group races, giving everybody an opportunity to run their fastest Mile. The age group heats will be followed by the fast action of the Men's and Women's Open Mile as well as the joy of the Fun Mile. All the Mile events in the morning will lead up to the main event, the Elite Men's Mile.
"The inaugural Solvang Mile should be something special with the elite men going after the storied sub-4 minute mark, and as part of the Bring Back the Mile national campaign, we look forward to celebrating the iconic distance," said Alex Kehaya, race director.
The Elite Men's Mile includes a crew of sub-4 minute milers and USA national team representatives. The field will be led by San Diego native AJ Acosta (3:53) and South African Peter van der Westhuizen (3:54). Joining them will be a Southern California contingent of sub-4 Milers including Morro Bay-raised Christian Hesch (3:58), local Santa Barbara runner Tommy Schmitz (3:58), UCLA grad Jon Rankin (3:56) and Cal Poly SLO alumnus Ben Bruce (4:00). These national class runners will fly around the streets of Solvang looking to bring the excitement of the sub-4 minute Mile to the streets of Solvang.
The event offers a $2600 prize purse with $1000 to the Men's Elite Mile race champion, $800 runner-up, $600 third and $200 fourth.
The Solvang Mile will also be supporting the Making Strides Against Breast Cancer campaign by the American Cancer Society. A portion of the proceeds from the Solvang Mile will be donated to the Making Strides Against Breast Cancer campaign. Donations will also be accepted for the cause on our registration page at active.com and during the event on Saturday, October 6.
The USA Track & Field sanctioned event will be contested on a USATF certified road course. To register or for more information, go to: www.active.com/10k-race/solvang-ca/the-solvang-mile-2012
Race contact: Alex Kehaya, alex@northamericanathletics.com or (828) 713-5298