How Elite Miler Shannon Osika Owns Her Mornings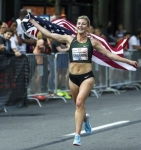 February 18, 2019
The rising star from Michigan swears by plenty of Zs and a hearty breakfast
By Hailey Middlebrook, Runner's World
Shannon Osika is on a hot streak. Over the weekend, the 25-year-old former University of Michigan runner nailed a track personal record in the Wanamaker Mile at New York City's Millrose Games, finishing fourth in 4:25.71 behind winner Konstanze Klosterhalfen, runner-up Colleen Quigley, and Kate Grace. The race came on the heels of another breakthrough performance: On her alma mater's indoor track earlier this month, Osika ran a personal best of 2:02.89 for 800 meters.
"I was pleasantly surprised," says Osika. "Last year at this time, I was running 2:03, so it was nice to run 2:02 and feel so smooth. Typically my arms and legs go crazy at the end of the race, but I felt really strong."
Now with two solid years of post-grad training with Ann Arbor's True Blue Elite team under her belt, the Nike-sponsored runner is reaping the benefits in races. Last August, Osika won the Ed Murphey Memphis Mile in a Tennessee record time of 4:25.47, then came back to win September's HOKA One One Long Island Mile in 4:29.91, beating Emma Coburn and 2018 USA Road Mile champion Emily Lipari. In December, the 2018 Bring Back the Mile Grand Prix Tour runner-up transitioned to the roads, placing 2nd in Hawaii's Kalakaua Merrie Mile with a 4:33.12.
Up next for Osika is the USATF Indoor Championships on Staten Island from February 22 through 24. As she prepares to race, she shares how she starts each day to ensure speedy times on the track. Here, she walks us through her typical morning routine.
Wake Up Well-Rested
I typically get up around 8:00 or 9:00 in the morning. I'm a big sleeper—I work best on around nine to 10 hours per night, but it's not unusual for me to sleep more than 10 hours. I try to go to bed around 11:00pm each night. I like to be up at least an hour and a half before my morning workout (which starts at either 9:30 or 11:00 on weekdays), so I have plenty of time to digest breakfast and relax before going hard.
Continue reading at: runnersworld.com