How Cory McGee went from Pass Christian to Tokyo Olympics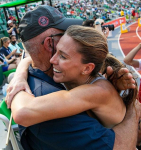 July 26, 2021
"Perhaps it's a good thing as a first-time Olympian. You create a situation that's not as overwhelming. It feels like any other meet you've ever run in."
By Patrick Magee, Sun Herald
Unlike most athletes who will be competing in Tokyo, Pass Christian native Cory McGee had in-person exposure to the Olympic Games at an early age.
Her father, Jim McGee, is a retired FBI special agent who led the bureau's security efforts during the 2004 Games in Athens, Greece. He also worked during the 1996 Games in Atlanta and in Sydney in 2000.
On Monday, Aug. 2, Cory McGee will go from spectator to Olympic athlete when she takes part in the first round of competition in the 1500 meters.
In Athens, she had the opportunity to mingle with athletes and watch competitions first-hand. Her running career was still in its infancy in 2004, but that experience is at the root of her Olympic pursuit that included three trips to the U.S. Olympic Trials before qualifying last month.
"Undoubtedly, that's when the seed was planted," McGee told the Sun Herald in a phone interview from Switzerland. "It felt strangely normal to get to meet athletes and be at the Games. It was all integrated with my dad's job.
"Now, you look at how complicated it is from the athlete's perspective and how special it is to be at the Games. You didn't fully appreciate it as a child. It's such a huge, crazy event."
Father and daughter both took advantage of the opportunity to run in an ancient stadium in downtown Athens that played host to the first modern international Olympics in 1896.
"She told me when she was 8, 'Daddy, I'm going to be an Olympian,' " Jim McGee said. "I said, 'Good, I hope you can do that.'
"It was always in the back of her mind. I always encouraged her. She competed in AAU, USATF and the Junior Olympics. It's the same thing.
"For her to have success and climb up on the podium and get a miniature medal, that was definitely a feeling that made an impact."
Cory McGee's start in running
Her father was Cory's first major influence on her career, taking her along for runs on the beach in Pass Christian.
She was about 7-years-old when she first started to show she could hang with her dad.
Jim's oldest daughter, Shannon, was the first to take part in the runs, and Cory would follow along in her grandfather's truck.
"The first time Cory went (the full 4 miles), her older sister broke off 2 miles in and got in the truck with Paw Paw," Jim McGee said. "Cory said, 'I'm not going. I'm finishing.' And she did. She started running with me frequently. She always went the distance. I knew early on that Cory had a talent for running. I could just tell."
By 9-years-old, she was able to best her father on those 4-mile runs.
Cory continued to get better and better as a runner, with her time in Athens playing a big role in getting her started on the right track.
When she returned home to Pass Christian, she continued her pursuit of a running career, although under less ideal conditions with humid weather and fewer running trials.
"Things could have been very different had I not been introduced to it that way (in Greece)," Cory said. "I moved back to Mississippi and distance running wasn't popular at all. I had that understanding of the sport from living abroad, and I carried it with me. Even though it wasn't a popular sport in Mississippi, I knew in my heart that I loved it."
While competing in various events across the nation, Cory McGee became a big name on the youth circuit.
At Pass Christian High School, she left quite the legacy with 22 gold medals, one silver and three bronze in track & field and cross country.
At the University of Florida, she claimed multiple SEC championships and All-American selections.
Continue reading at: sunherald.com