Hassan breaks women's Mile world record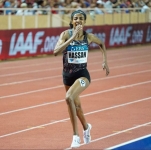 July 12, 2019
Three other national records and numerous personal records set at inaugural Brave Like Gabe Mile
Mike Rowbottom for the IAAF
MONACO - Sifan Hassan, who arrived on the Stade Louis II track tonight as the third fastest female Miler of all-time, departed the Herculis EBS Diamond League meet as the fastest, having produced a marvel of a final lap to finish in 4:12.33, thus breaking the 23-year-old mark of 4:12.56 held by Russia's 1996 Olympic 800 and 1500m champion Svetlana Masterkova.
Hassan, 26, had said on the day before the race that she intended to run "three or four seconds" faster than her best of 4:14.71, set in London in 2017.
As things turned out, she failed in that ambition; not that the Dutch citizen looked too put out about it after the race as she lay on her back with a radiant smile on her face.
After the field had been paced through 800m in 2:08.20, Hassan moved into the lead with 600 meters remaining, with Ethiopia's Gudaf Tsegay the only runner in touch at that stage.
Hassan, who had broken the 5K road race world record in the Principality in February, simply cut loose over the final lap and was suitably rewarded for her enterprise by the digital clock.
In her wake the effort of chasing told on Tsegay, who faded to fourth in a season's best of 4:18.31 as Britain's Laura Weightman came through to finish second in a personal record of 4:17.60 and Gabriela Debues-Stafford of Canada took third place with a national record of 4:17.87.
"I knew I could run fast but the first 800 was a bit slow, so after that I wasn't thinking it would be a world record," Hassan, the European 5000m champion, said. "When I crossed the line I was so surprised.
"After you run a last 400 like that, and set a world record, it gives me so much confidence over 5000m. I want to double over 1500 and 5000m in Doha and the way I finished the last 400 there, it's amazing!"
Hassan said she had been lifted by the crowd in the closing stages of the race. "That made me extra happy," she said. "It was a beautiful last lap with the crowd supporting me."
Her next race, she said, would be a 5000m. "I don't know where yet. The one world record I would love would be the 5000m."
Before the start of the women's Mile, re-named the Brave Like Gabe Mile, a short film clip was shown featuring the U.S. runner Gabe Grunewald who fought cancer for so long before succumbing earlier this year, and the crowd showed their respect and appreciation.
Mile world record progressions HERE.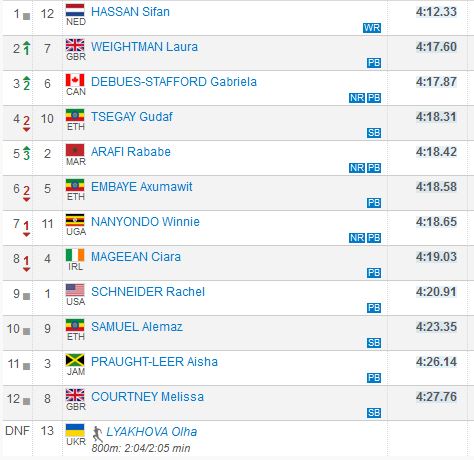 .