Harrogate school to honor Diane Leather Charles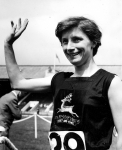 November 24, 2021
For running pioneer's legacy, establishment of an award for promising female runners at the school
By Suzannah Rogerson, The Stray Ferret
A school in Harrogate is to honor a former pupil who became the first woman to run a Mile in under 5 minutes.
Diane Leather, who attended Harrogate Ladies' College, made history on May 29, 1954 in Birmingham when she recorded a Mile in 4 minutes and 59.6 seconds.
She only received a fraction of the acclaim given to countryman Roger Bannister when he ran the first sub-4 minute Mile 23 days earlier.
Her former school plans to establish an award for promising female runners in recognition of her extraordinary feat.
Sylvia Brett, the principal of the college, said: "Diane was a pioneer and an amazing athlete. We're determined her legacy for female athletes won't be forgotten, and we hope the new award will help others achieve their dreams."
Inspired by the Olympics
Staffordshire-born Diane attended Harrogate Ladies' College between 1943 and 1951 and enjoyed all sports, particularly netball and lacrosse, but her running ability marked her out from a young age.
She trained as a chemist and joined her local athletics club, Birchfield Harriers, after watching the Helsinki Olympics in 1952.
The following year she set a women's 'best' for running a Mile in 5 minutes and 2.6 seconds. After she broke the record, she clocked another two sub-5-minute Mile times by running 4 minutes 50.8 seconds and 4 minutes 45 seconds.
It wasn't for another 13 years until after she set the 'best' time that the International Amateur Athletics Federation, now known as World Athletics, recognized women's world records for the Mile. Unfounded medical concerns meant women were banned from the Olympic marathon until 1984 and only began ski jumping at the Winter Olympics in 2014.
Diane held the record for eight years. She also held the British 1500m record for 11 years.
She competed at the 1960 Rome Olympic Games as Diane Charles, running in a preliminary heat in the 800m. Later that year she retired from competitive running, aged 27, and in 1961 gave birth to her first child.
Continue reading at: thestrayferret.co.uk