Haddonfield's Erin Donohue on another Olympic quest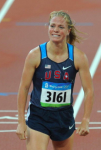 July 18, 2015
"The main thing is to keep her healthy and be very, very careful on different things that we do. But yes, she can make the Olympic team."
By Jen A. Miller, Philly.com
When Erin Donohue lined up to run the 1000 meters at the Diamond League adidas Grand Prix in New York on June 13, she was not considered a major force in middle distance track - at least not anymore.
Dressed all in black, Donohue, who ran the 1500 meters for the United States in the 2008 Beijing Olympics, no longer had a sponsor. Major track meets, World Championships and competitions had gone on without her for years. At 32, she was 13 years older than the youngest person on the line, 19-year-old Mary Cain.
Still, Donohue didn't go into the race as an underdog, at least not in her mind.
"I always go into every race always expecting to win," she said. "I looked at the rest of the field and thought I could go in and put myself in a position to win with 400 [meters] to go."
Continue reading at: www.philly.com