Guardian Mile returns with defending champions, sub-4 Milers and growing field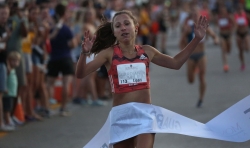 August 16, 2019
"The goal of the Guardian Mile has always been to provide an amazing race, great experience and bring in the top local, national and international elite athletes..."
By Mike Peticca, Special to The Plain Dealer
CLEVELAND, Ohio – The second running of the Guardian Mile on Saturday is expected to be more than a re-run of last year's successful debut event in Cleveland.
"Organizers and competitors were incredibly happy with how the race went last year," said Ken Sullivan, part of the GOH Run non-profit that puts on the Mile road run across the Hope Memorial Bridge. "Community runners and elites alike raved about its organization and unique course.
"Our elite fields were internationally competitive and we had almost 350 registered runners. We expect similarly competitive elite fields this year and growth in our community races. We should end up somewhere between 400 and 500 runners."
The first of several community races begins at 7:00pm. The Monticello Associates Elite women's and men's races, featuring top national and international runners, will be at 8:00 and 8:15pm, respectively.
Interested runners can still register at: http://www.gohrun.org/themile
Nick Willis of New Zealand, a two-time Olympic medalist, and Emily Lipari, a former NCAA Mile champion at Villanova, won last summer's Elite Men's and Women's Mile races, respectively. They return in attempts to defend their titles on Saturday.
Runners start the spectator-lined race at West 24th Street near the West Side Market, and cross the Hope Memorial (Lorain-Carnegie) Bridge, past the Art Deco guardian figures for which the race is named. After the uphill start, the last half-mile of the USATF certified course goes gradually downhill, finishing near the Western Reserve Fire Museum, across from Progressive Field.
Continue reading at: cleveland.com